Hair colors amber and pink
...seen at the punk-chic 'Red Head' trend collection Spring/Summer 2013 by hair stylist Katharina Strassl. The Viennese hair dresser and salon owner presents the hair colors and cuts with images in refreshing style and making-of video from the shooting.

Additionally, Katharina Strassl provided historical facts and information about red hair such as the mythology around women with extraordinary skills (witches) and Sandro Botticelli's painting of 'The Birth of Venus' (with amber-gold hair).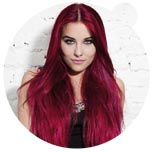 fig. original: 'Red Head' trend collection Spring/Summer 2013 by Katharina Strassl, hair salon 'Intercoiffeur Katharina Strassl' in Vienna. The stylist uses for the playful effect various colors in combination - darker colors at the hairline to lighter shades at the hair-ends ('balayage' coloring technique). 'Amber' and 'Pink' are on view on this page, find the hair color 'Ruby' on katharina-strassl.com. Left: Pink colored long hair. Katharina Strassl used purple tones with a touch of blue and pink; lighter color in the hair-ends. Right: Short hair cut with different lengths and amber colored hair (three colors). Fashion powered by Glamrock. Photos: (C) www.juliebrass.com.
Source: Original article with images on http://www.beautyme.com/hair/2013/katharinastrassl5-2013.htm.

more fashion.at/mobile>

News from
April 2013
March 2013
February 2013
January 2013
December 2012
November 2012
October 2012

subscribe
terms
imprint
(C) Sawetz, since 1996