Recipe for Choco-Mint-Cooler Smoothie
Kenwood presents the mixer 'Smoothie 2GO' with new recipes such as for the Choco-Mint-Cooler Smoothie with chocolate ice cream, milk and peppermint. Easy to mix!
Choco-Mint-Cooler

Ingredients: (for 2 - 3 portions)
475 ml milk, ice cold
5 small chocolate ice cream scoops (250g)
A few drops of peppermint essence, after taste
Preparation:
Fill milk and peppermint essence into the mixing bowl and add the ice cream
Mingle the milk, choco ice, and mint at level 1 for 20 seconds and then mix the mass at level 2 for 10 sec. The creamy smoothie is ready!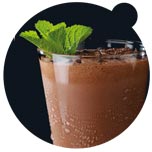 fig. original: The image shows the Choco-Mint-Cooler, recipe provided by Kenwood Austria together with the mixer Smoothie 2GO SB055 (image, for affordable 39,99 Euro). On the website of Kenwood, several recipes such as Banana Shake, Pear-Pineapple Drops, or Ginger Smoothie are published (checked on 2 May 2013).
Source: Original article with images on http://www.fashionoffice.org/cuisine/2013/kenwood5-2013.htm.

more fashion.at/mobile>

News from
April 2013
March 2013
February 2013
January 2013
December 2012
November 2012
October 2012

subscribe
terms
imprint
(C) Sawetz, since 1996