"Who knows the threads of thoughts?"

...is the core theme of the installation by Cathy Wilkes (born 1966 in Northern Ireland, lives in Glasgow) with shop mannequins such as the one on view on this page with a cage around her head which could stand for thoughts that are not free to fly - but this is only one possible explanation of the cage around the mannequin's head.

The installation 'I Give You All My Money' received a Turner Prize Nomination in 2008 and was exhibited at Tate in London. According to art critic Nick Hackworth (find the video below), Cathy Wilkes' installation is a good example for how difficult it can be to 'read' the messages of contemporary art - which carries in many cases not so much rational messages but very personal expressions of feelings. The ones who are not willing to follow irrationality might ask "Where is the art in there".

Nick Hackworth says about the installation: "It is about the difficulty in communication," and the impossibility of truly understanding of what the other is feeling.

The installation - partly made from recycled materials from other art works by Cathy Wilkes, travels in February to Austria where visitors can explore it and find their own thread of the art story. It will be on show for two months on occasion of the group exhibition (with Isa Genzken, Keith Haring, Cindy Sherman, Rosemarie Trockel,...) about the value of feelings, love and capital 'Love Is Colder Than Capital' at the Kunsthaus Bregenz.

Key ideas behind the curational concept are the exploitation of the private and personal by economic interests which is in today's society encouraged by digital social networks where users post personal information about their private lives like relationships or preferences which are in the end used by the consumer and entertainment industries. "It would be misleading though, of course, to argue from this to an absence of real feelings and empathy in what goes on in society. On the contrary: the desire to create personal and social meaning beyond economic utility is stronger than ever," explains Kunsthaus Bregenz in its press release.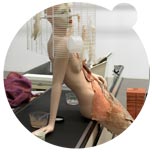 fig. original: View on the mixed media installation 'I Give You All My Money' by Cathy Wilkes (2008) at The Renaissance Society, The University of Chicago in 2012. Photo: Tom Van Eynde; courtesy of the artist and The Modern Institute|Toby Webster Ltd, Glasgow. The dimensions of Cathy Wilkes' installation 'I Give You All My Money' are variable.

From 2 February until 14 April 2013, 'I Give You All My Money' by Cathy Wilkes will be part of the upcoming exhibition 'Love Is Colder Than Capital - An exhibition about the value of feelings' at the Kunsthaus Bregenz in Vorarlberg, Austria.
Video: At minute 3:00, the video 'TateShots Issue 16 - Turner Prize 08' shows art critic Nick Hackworth examining the work 'I Give You All My Money' by Turner Prize nominee Cathy Wilkes.
Source: Original article with image and video on http://www.fashionoffice.org/culture/2013/kunsthausbregenz1-2013.htm.

more fashion.at/mobile>

News from
December 2012
November 2012
October 2012
September 2012
August 2012
July 2012
June 2012
May 2012
April 2012
March 2012
February 2012
January 2012

subscribe
terms
imprint
(C) Sawetz, since 1996