References to signature South-American patterns and a female goddess of the Andes
...seen in early January 2013 at the Maloja catalogue for the active sports and urban wear Spring/Summer 2013 collection 'Pachamama' such as on view on this page. The catalogue 'Pachamama' is a travel-lookbook of the Maloja team, produced on their way through the mountains of the Andes with destinations in Peru and Bolivia. 'Pachamama' is the name of a female goddess of the region and stands for 'Mother Earth'. "Whosoever takes anything from Pachamama should give something in return," introduces Maloja into the catalogue which provides on page 109 the information about the new collaboration with female knitters in Al Alto, Bolivia.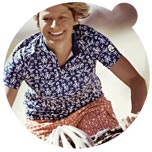 fig. original: Knee-length trousers in amber-orange and shirt with short-sleeves in cobalt-blue for women; the prints of both items are inspired by the signature visual culture of South-America; Maloja SS2013.
fig. original: Sports jacket in mouse-grey. The multi-colored closure detail in front shows South-American pattern style; Maloja SS2013.
Source: Original article with images on http://www.fashionoffice.org/collections/2013/maloja1-2013.htm.

more fashion.at/mobile>

News from
December 2012
November 2012
October 2012
September 2012
August 2012
July 2012
June 2012
May 2012
April 2012
March 2012
February 2012
January 2012

subscribe
terms
imprint
(C) Sawetz, since 1996