World map on Marc Jacobs' fragrance website with honeyspots located by fans
At the end of August 2013, Marc Jacobs fragrances started on occasion of the new sunny-floral eau de parfum 'Honey' the social media #MJHONEYSPOTS campaign with a geographical world map with user-located places which have 'honey' appeal.

Fashionoffice visited the map and found various postings: alongside to professional posting such as by restaurants or beauty stores, users posted images of cakes, the 'Honey' flacon, self(ies) portraits, or pictures of lucky moments with friends. From Vienna over London to New York, Singapore, Kuala Lumpur, Mexico City, Amsterdam, etc, the map sketches a virtual honey route through the world depicted by fans of Marc Jacobs' new fragrance - or fans of the idea to interact with others on the designer's fragrance website.
fig. original: Eau de parfum 'Honey' by Marc Jacobs; launched at the end of July 2013 in Austria. The perfume's flacon - designed by Coty Inc. in collaboration with Marc Jacobs, is dressed in a mix of graphical lines and dots; the butterfly in honey bee stripes on the head of the flacon looks like a chic hat.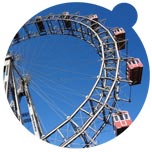 fig. original: On 2 September 2013, Fashionoffice joined via Twitter the world map by posting the image of the Giant Ferris Wheel for the #MJHONEYSPOTS in Vienna, Austria. Find the posting on pic.twitter.com/Zdo7v3kDNt or on the world map on marcjacobsfragrances.com.
Source: Original article with images on http://www.beautyme.com/fragrance/2013/marcjacobs9-2013.htm.

more fashion.at/mobile>

News from
July 2013
June 2013
May 2013
April 2013
March 2013
February 2013
January 2013

subscribe
terms
imprint
(C) Sawetz, since 1996