MS MR's surreal music videos
Today (8 April 2013), the new video for the song 'Hurricane' by New York-based duo MS MR (Lizzy Plapinger and Max Hershenow) premiered on VEVO. The music video with surreal scenes (which awaken associations with Salvador Dali's dreamy world, Antonin Artaud's theatre of cruelty) is filmed by writer, director, photographer Luke Gilford in Southern California. The 'Hurricane' video is described as "bewitching glimpse into otherworldly experiences of suburban youth" - some of these experiences happen in a wigs salon (video below).

Video: 'Hurricane' by MS MR (from the 'Hurricane' EP), directed by Luke Gilford; the song appears on the forthcoming 12+1-track album 'Secondhand Rapture' (mid-May 2013, Columbia Records).

'Hurricane' is the first single from MS MR's upcoming debut album 'Secondhand Rapture'. The album track 'Bones' was recently featured in HBO's Game Of Thrones season trailer and the song 'Fantasy' was presented with the video directed by Austin Peters who showed "...a world filled with fantasies gone wrong where the mundane, the surreal and the supernatural are all intertwined and what is real becomes a matter of perspective," introduce MS MR into the filmic story.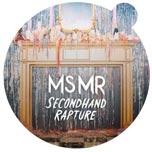 fig. original: Art work of the album 'Secondhand Rapture' by MS MR, (May 2013 via Columbia Records).
In April, May, June, MS MR are on North America tour: today in Vancouver, tomorrow in Seattle, 11 April in San Francisco,... In late June, they arrive in Europe in UK, on 2 July Paris/FR, followed by NL, DE, CH,...
Source: Original article with image and video on http://www.fashionoffice.org/culture/2013/msmr4-2013.htm.
News from
March 2013
February 2013
January 2013
December 2012
November 2012
October 2012
September 2012
August 2012

subscribe
terms
imprint
(C) Sawetz, since 1996