The costume design for Disney's new movie 'Oz'

The design of the costumes for the upcoming movie 'Oz: The Great and Powerful' (release early March 2013) was developed from the perspectives of two different worlds: the one reflects circus and is inspired by historic persons like scientist and telecommunications inventor Alexander Graham Bell or the aviation pioneers Orville and Wilbur Wright, the other is created by the fantasy about the miraculous Land of Oz.
Costume designer of 'Oz' is Oscar nominated Gary Jones ('The Talented Mr. Ripley') who collaborated closely with character designer Michael Kutsche (Tim Burton's 'Alice in Wonderland') on the creation of nearly 2,000 costumes.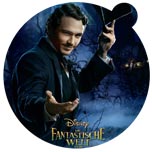 fig. original: German language poster for the Disney movie 'Oz: The Great and Powerful' (German title 'Die Fantastische Welt von Oz'). The poster shows actor James Franco as magician Oscar Diggs aka Oz in front of a mysterious fantasy landscape.
Costume designer Gary Jones introduces into his research for Franco's costumes for the movie: "Our story begins in a circus, which is the most period-accurate part of the film. We researched everything from the largest circus to the poorest, most downtrodden carnival entertainers from the turn-of-the-century to the Dust Bowl. We covered the period between 1880-1930 in our research." Gary Jones met actor James Franco in a SoHo coffee shop in New York where he shared vintage photos (some of Alexander Graham Bell, some of the Wright Brothers) from the turn-of-the-century. "Those were things that we started with and that's how we got to Oz's final wardrobe design—a black cutaway suit from the turn-of-the-century, which I am very proud to have designed," Gary Jones concludes.
The fantastic part of the story begins when circus magician Oscar Diggs (James Franco) is hurled away from Kansas to the Land of Oz, where he meets three witches, Theodora (Mila Kunis), Evanora (Rachel Weisz) and Glinda (Michelle Williams). The witches think he is the 'great wizard'. For the three fantasy figures Evanora, Theodora and Glinda, the costume creators Jones and Kutsche found another approach - the one from the fantastic world of Oz.
Video: Official trailer for Disney's fantastical adventure "Oz: The Great and Powerful" (release March 2013).
"For Evanora, the ruler of Emerald City, the starting point was looking at the architecture of the city," German artist Michael Kutsche says. "I really wanted her to not just be some person in this place, but to actually be this place. The shape and color of her wardrobe actually reflect the architecture and feel of Emerald City, which was Art Deco inspired. So, by resembling and reflecting that, I could make her more of a mighty being that stands out against all the other citizens, and the other witches as well."

It was a long way from Kutsche's pencil sketches on paper over the digitalized character (includes status, personality, surrounding...) on the computer to the materialized costumes. The clothing details and first impressions of the material were applied on the computer. Gary Jones says: "In many cases, Michael's drawings did dictate what the feeling needed to be, but we had to go on a real search to find the right element and the way to do it. That was a great adventure."

fig. original: Scene from the movie 'Oz: The Great and Powerful', directed by Sam Raimi; left, 'China Girl' (voiced by Joey King); right, actor James Franco in the role of 'Oz'. Photo: (C) Disney Enterprises, Inc. All Rights Reserved. The international release starts on 7 March 2013. Find the worldwide release dates on imdb.com
Source: Original article with images and video on http://www.fashionoffice.org/culture/2013/oz2-2013.htm.

more fashion.at/mobile>

News from
January 2013
December 2012
November 2012
October 2012
September 2012
August 2012
July 2012

subscribe
terms
imprint
(C) Sawetz, since 1996