Hair Product Review by Karin Sawetz, publisher Fashionoffice (12 May 2013)
Poolside companion for hairs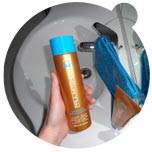 fig. original: In early May 2013, Paul Mitchell sent information about the new hair care line 'sun'. Already in February 2013, the three products - the Sun Recovery Hydrating Shampoo (which I'm holding in my hand, photo right), the After-Sun Replenishing Masque (in the middle), and the Sun Shield Conditioning Spray, received the 'Prix de Beauté' by the magazine Cosmopolitan for extraordinary achievements in beauty. Main feature of the 'sun'-line is the UVeil-Complex with sunflower extracts against hair damages caused by UVA- and UVB-rays and salty sea or chlorine pool water. (But please be aware that the products' protective ingredients are caring for the hair and not for your skin! Don't forget to wear a hat or cap when you are longer under the sun.) Already in the 1980ies, Paul Mitchell pioneered the beauty industry by declaring to develop products without testing them on animals.
I'm using the products not only since May. I know them already since early 2013 and use the shampoo regularly. The shampoo's scent is lemon-fresh - Paul Mitchell describes the scent as 'tropical' which meets my impression well. I caught myself choosing it because of its scent for boosting my mood - it brings sunshine into the bathroom. The Recovery Hydrating Shampoo is developed for economical usage (a small amount is enough for cleaning the hair), for the protection against hair damages caused by sun and pool or sea water (protection achieved by UV-light absorbing ingredients and sunflower extracts) and hair shine (through moisturizing).
The After-Sun Replenishing Masque is an intense moisturizing care. The masque has to be rinsed out after 5 to 10 minutes. The Sun Shield Conditioning Spray, a moisturizing finishing spray with UV-protection with oils from sunflowers is my favorite through summer. As soon as the temperatures in Vienna are rising (today at 9.00, preview on wetter.at for the whole day: 11 to 14° Celsius), I will use it regularly during sun baths at the pool.

(Paul Mitchell sells the 'sun'-line via the label's salons. Find the salon locators on the country specific Paul Mitchell websites such as on paulmitchell.com or paulmitchell.de.)
Source: Original article with image on http://www.beautyme.com/hair/2013/paulmitchell5-2013.htm.

more fashion.at/mobile>

News from
April 2013
March 2013
February 2013
January 2013
December 2012
November 2012
October 2012

subscribe
terms
imprint
(C) Sawetz, since 1996