Vienna Insight by Karin Sawetz, publisher Fashionoffice
16 June 2013
15 years of life and work depicted in a photo book
I met photographer and filmmaker Sam Scott Schiavo on occasion of the exhibition 'XXX Man' at the fashion store Tiberius in Vienna (Fashionoffice reported recently - Gender culture and the values 'honesty' and 'equality').
Sam Scott Schiavo is originally from US and lives since more than 20 years in Europe; since four years he is based in Vienna with connections to the worldwide male model scene; before, he was model scout and agent in Milan. Currently, he is finishing his photo book which will show 15 years of his photographic work. The red thread of the book follows the life of a man. It's a chronological documentary about the work of photographer Sam Scott Schiavo as well as a chronicle about the man who is depicted. The protagonist was 15 years ago model in Milan and lives now - with less hair on his scalp, in New York. Looking forward to seeing the book!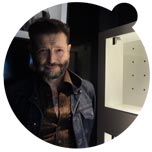 fig. original: Sam Scott Schiavo in front of two of his photos at the exhibition 'XXX Man' on Friday, 14 June 2013 at the Viennese fashion store Tiberius. The black and white photos show a Milanese male model, captured in 2002. The style of the photos could be described as 'natural play with light and shadow around a male body'. The photos are not re-worked or re-fined with computer software - they are just as the exposure acid-bath delivered them.
Source: Original article with image on http://www.fashionoffice.org/culture/2013/samscottschiavo6-2013.htm.

more fashion.at/mobile>

News from
May 2013
April 2013
March 2013
February 2013
January 2013
December 2012
November 2012

subscribe
terms
imprint
(C) Sawetz, since 1996