Sit In Series by Karin Sawetz, publisher Fashionoffice
(log series through March and April 2013, Vienna)
Sit In Series Log: Day Seven
18 March 2013
Day 1 - Day 2 - Day 3 - Day 4 - Day 5 - Day 6 - Day 7 - Day 8 - Day 9 - Day 10 - Day 11 - Day 12 - Day 13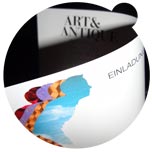 fig.: Today, I will follow virtually the invitation by the Viennese high jewellery house A.E. Köchert to the vernissage of the art, arts and crafts, and design fair Art&Antique on 22 March 2013 at the Residenz in Salzburg.
Art&Antique will present alongside to art pieces like paintings, especially design objects and arts and crafts items such as furniture, porcelain, or jewellery.

The classification 'design object' would be misleading in the case of jewellery by A.E. Köchert because the pieces are not classical industrial, serial products; even when Köchert's pieces are 'designed' ('design' - making a form meaningful; from Latin 'designare' - to mark, to sign) as well. But they are manufactured in the tradition of art crafts. In the world of jewellery - which is very heterogeneous and ranges from glass pearls to diamonds, not to mention the differences of manufacturing techniques, the products of A.E. Köchert (the house was founded 1814, in 1849 Köchert became the personal jeweller of Emperor Franz Joseph and the official Royal and Imperial Court Jeweller) belong to 'High Jewellery'. The jewellery house for example finished the Austrian Imperial Crown. And there is one hair jewellery set which is known worldwide: the 27 diamond stars (manufactured 1854) which were braided by Empress Elisabeth into her hair. You can view how she had done the braiding on a painting which shows Empress Elisabeth (called 'Sissy') dressed in Haute Couture by Charles Frederick Worth with diamond stars jewellery by A.E. Köchert.
At Art&Antique, A.E. Köchert will not exhibit these diamond stars (which went missing) but pieces that are still available such as drop earrings made of rose beryl with lavender jade and diamonds.
The vernissage on 22 March can only be visited by invitation. The 38th edition of the fair Art&Antique Residenz Salzburg opens to the public on 23 March and can be viewed until 1 April 2013. The objects at Art&Antique are delivered by more than forty international galleries, art dealers and manufacturers. Last mentioned are not active primarily in industrial serial production. Even the objects' presentation is announced to be gallery-alike. Visitors of the fair are professionals from museums like custos (responsible for museum collections), exhibition curators of cultural institutions, auctioneers, and the ones who are interested in art and design. Last year, Art&Antique counted 15.500 visitors.
Source: Original article with image on http://www.fashionoffice.org/culture/2013/sit_in_series-daysix3-2013.htm.

more fashion.at/mobile>

News from
February 2013
January 2013
December 2012
November 2012
October 2012
September 2012
August 2012

subscribe
terms
imprint
(C) Sawetz, since 1996