Some call them the 'most beautiful' beach volleyball players
'Beauty' is a matter of opinion. Fact is that the beach volleyball duo Katrin Holtwick and Ilka Semmler are top-ranking athletes (German Masters 2009 and 2012, qualified for the Olympic Games 2012 in London where they reached place 9). Currently, the German duo is listed on place 6 of the world ranking.
On 15 April 2013, women's wear label Soccx (belongs to Clinton Group) presented the new 'Beachgames' SS2013 collection with the two role models from sports. Thomas Finkbeiner, CEO of Clinton Group, says about the decision to work with the beach volleyball players Holtwick and Semmler that qualities like their self-confidence combined with coolness and friendliness represent the label's message best.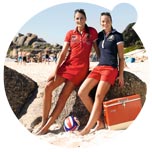 fig. original: German national beach volleyball duo 27 years old Ilka Semmler (image left) and Katrin Holtwick (29) are the role models of the new campaign 'Beachgames' Spring/Summer 2013 by Soccx. The around 30-pieces collection (consisting of items with nautical motifs like maritime stripes and sailing regatta emblems) is inspired by water sports and beach activities. The advertising campaign will start in May 2013.
Source: Original article with image on http://www.fashionoffice.org/collections/2013/soccx4-2013.htm.

more fashion.at/mobile>

News from
March 2013
February 2013
January 2013
December 2012
November 2012
October 2012
September 2012
August 2012

subscribe
terms
imprint
(C) Sawetz, since 1996