Girl meets a boy's classical American casual wear
...seen at Steven Alan's Spring/Summer 2014 collection consisting of men's suits adjusted for women (image right) and sexy combinations such as the oversized sports sweater mix with very female long skirt and wide-brimmed sun hat (image below). The summer pieces in light colors like pastel-cream and sky-blue were shown on 10 September 2013 at Mercedes-Benz Fashion Week in New York.
Magazines like Vogue, Fashionising, Glamour Magazine are publishing photos from the designer's MBFW New York catwalk and Washington Square News notes that Steven Alan's "...collection offers all the boy clothes a girl dreams to wear..."
The designer and founder of the eponymous store chain 'Steven Alan' incorporates the heritage of classical American casual wear into his fashion collections. The label was founded in the 90ies and is sold today in over 300 stores worldwide.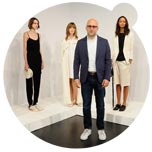 fig. original: Steven Alan in front of the Spring/Summer 2014 catwalk. Both images were taken on 10 September 2013 during Mercedes-Benz Fashion Week in New York City. Original: Model in pastel-cream colored suit and white shirt. Photos by Fernanda Calfat/Getty Images for Mercedes-Benz; (C) 2013 Getty Images.
Video: Presentation of Steven Alan Spring/Summer 2014 at Mercedes-Benz Fashion Week New York on 10 September 2013.
Source: Original article with images and video on http://www.confashion.com/ss2014/stevenalan9-2013.htm.

more fashion.at/mobile>

News from
August 2013
July 2013
June 2013
May 2013
April 2013
March 2013
February 2013
January 2013

subscribe
terms
imprint
(C) Sawetz, since 1996