Music program at Sundance London 2013

In early April 2013, the film and music festival Sundance London (25 - 28 April) announced the schedule of music live performances.
Only to highlight two acts from a long list of music events at Sundance London: on 26 April, punk-rock musician and filmmaker Peaches will open the music live performance series at the location indigO2 (recently, Fashionoffice published an article about Peaches at Sundance London 2013), and on 27 April, the Australian singer-songwriter Josef Salvat is one of the musicians at the Festival's Hub.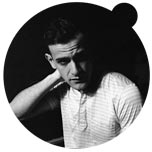 fig. original: Portrait Josef Salvat. The Australian musician Josef Salvat performs live on 27 April at Sundance London 2013. Photo: Courtesy of Sundance Institute.
The music performances at 'The Hub' were curated by the American Society of Composers, Authors and Publishers (ASCAP) in association with Gibson. Find out more about the artists at Sundance London on sundance-london.com/films-events.
Video: 'This Life' by Josef Salvat, directed by Sophie Andrea Tabet; debut song from the EP 'This Life', released on 24 March 2013 on Sticky Lips Music Ltd. The song 'This Life' reached soon top-rankings in the HypeMachine charts.
Source: Original article with image and video on http://www.fashionoffice.org/culture/2013/sundancelondon4-2013.htm.

more fashion.at/mobile>

News from
March 2013
February 2013
January 2013
December 2012
November 2012
October 2012
September 2012
August 2012

subscribe
terms
imprint
(C) Sawetz, since 1996