"Sometimes conquests succeed simply with a smile" introduces Marcos Valenzuela into the new Tiberius 'Conquest' collection
...which will be on show on 11 September 2013 at MQ Vienna Fashion Week. The Columbian, in Bogota born and in Vienna living designer Marcos Valenzuela created for the first time in Tiberius' history prêt-à-porter day and evening wear for women and men in one collection. The preview images show men's suits and women's dresses in glossy satin and black leather for cocktail and party events, a jumper for her with velvet surface (image right), or a woolen trench coat in black for him. Sexy and comfortable fashion for modern conquistadors!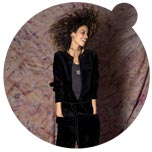 fig. original: Woman and man in outfits from the 'Conquest' collection Fall/Winter 2013/14 by Vienna-based Tiberius. The label was founded 1992 as fashion fetish store; today, it is one of the most well-known Viennese fashion labels. Photos: (C) Olga Rubio.
Source: Original article with images on http://www.fashionoffice.org/collections/2013/tiberius8-2013.htm.

more fashion.at/mobile>

News from
July 2013
June 2013
May 2013
April 2013
March 2013
February 2013
January 2013

subscribe
terms
imprint
(C) Sawetz, since 1996