Top 10 (most popular, most viewed) Fashionoffice pages and clickrates in April 2013
Last month, generated on 1 May 2013 at 12.00 by Adsense, Quantcast, FeedBurner, and AddThis. Results generated via Google Analytics on 19 May.
The article about Vera Wang's new perfume 'Be Jeweled' was the most requested editorial article on Fashionoffice (according to Google Analytics, most viewed pages in April 2013).
In April, 28,040 Clicks on advertising (Adsense) were produced by 6,922 People (Quantcast).
The FashionFeed (generated via FeedBurner) concerning the sun protection charity by Austrian headwear label Capo on occasion of 'Albinism Awareness Day' in Blantyre/Malawi was the most popular feed which led back to the magazine's own articles during the last thirty days.
The editorial article with the title 'HBO series 'True Blood' recipes and music' motivated the users most to share and click (tracked by AddThis).
Google Analytics
The Top 10 requests according to Google Analytics on domains of Fashionoffice from 1 to 30 April 2013 on web and mobile pages (in sum; generated on 19 May 2013) are:
Adsense
Clickrates on Fashionoffice - last month, generated on 1 May at 12.00 by Google Adsense
Currently, Fashionoffice has opened two ad units for Adsense; 728x90 on the top of the magazine's pages and 336x280 (placement above the fold). During last month (1 - 30 April 2013), Google Adsense tracked 138,957 Ad Requests and 28,040 Clicks; matched CTR 20.18%. The click-friendliest countries in the statistics are Italy (Clickthrough Rate 25.79%), Colombia (CTR 25.42%), Spain (CTR 24.09%), Netherlands (CTR 23.92%), United Kingdom (CTR 21.70%), United States (CTR 20.14%)...
Quantcast
Clicks matched with data about 'People' on Fashionoffice, 31 March - 29 April 2013, People measured by Quantcast
Last month, 28,040 Clicks on advertising (Adsense) were produced by 6,922 People.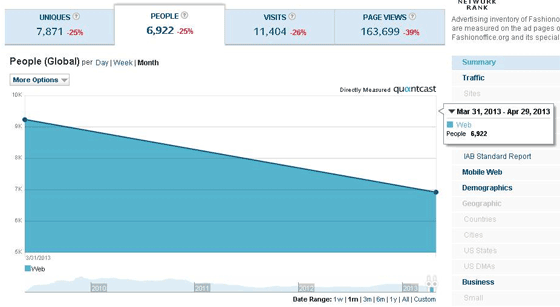 FeedBurner
On 1 May 2013 (at 12.00), the Google FeedBurner statistics for the last 30 days from 1 until 30 April 2013 calculated 3,859 views of 163 items, 26,522 clicks back to the site on 347 items.
The most popular Fashionoffice articles in the FeedBurner ranking (views/clicks) are:
On top of the FeedBurner/Fashion Feeds by Fashionoffice popularity ranking (views/clicks):
AddThis
Top 10 shared/clicked articles in April on Fashionoffice (social media statistics by AddThis, generated on 1 May, 12.00):
The Content Trends, Service Trends and Viral Lifts* are generated by the AddThis tools on Fashionoffice pages. *Viral Lift: "Total percentage increase in traffic due to shares and clicks." (AddThis Analytics Glossary)
Content Trends (past month; generated on 1 May 2013, 12.00)
Page (shares & clicks)
Viral Lift
1

Fashionoffice: HBO series 'True Blood' recipes and m...
http://www.fashionoffice.org/culture/2013/trueblood4-2013.htm?utm_sour...

500%
2
Fashionoffice: Mother's Day jewellery that symbolize...
http://www.fashionoffice.org/collections/2013/pandora4-2013.htm


200%
3
Fashionoffice: Past, presence and future of shoes
http://www.fashionoffice.org/culture/2013/joanneum4-2013.htm?utm_sourc...
150%
4
Fashionoffice: 'Hunter's Life' series by Karin Sawet...
http://www.fashionoffice.org/culture/2013/hunterslife25-4-2013.htm?utm...
0%
5
Beautyme: 'Good Girl Gone Bad' is the title of one o...
http://www.beautyme.com/fragrance/2013/kilian2-2013.htm
100%
6
Fashionoffice: Bikini with Aztec print; seen at Prim...
http://www.fashionoffice.org/collections/2012/primark3-2012.htm

200%
7

Trendletter May 2013 - I: World Photography Awards;...
http://www.fashion.at/mobile/2013/trendletter5-2013-I.htm

100%
8
Fashionoffice: 'Hunter's Life' series by Karin Sawet...
http://www.fashionoffice.org/culture/2013/hunterslife25-4-2013.htm?utm...
0%
9
Fashionoffice: Sit In Series: Day Twelve - about His...
http://www.fashionoffice.org/culture/2013/sit_in_series-daytwelve4-2013.htm...
0%
10
Fashionoffice: What shapes the body? - Ali Kazma, ar...
http://www.fashionoffice.org/culture/2013/alikazma2-2013.htm
100%
Service Trends (past month; generated on 1 May 2013)
Service
Viral Lift
1

Address Bar


206%
2
Google+ Share
58%
3
Facebook

49%
Pinterest Pin It
3%
Twitter
0%
LinkedIn
0%
Email

0%
Source: Original article with image on http://www.fashionoffice.org/survey/2013/toptenonfashionoffice5-2013.htm.

more fashion.at/mobile>

News from
April 2013
March 2013
February 2013
January 2013
December 2012
November 2012
October 2012

subscribe
terms
imprint
(C) Sawetz, since 1996