Subscribe to the Trendletter!
March 2013 - III: Swimwear Style; Call For Surfers; Interactive Shoe Project;...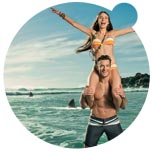 Let the nature trip begin!
Lizzy Jagger and John Esposito are guiding through situations like water games at shark beaches. Lizzy Jagger wears the Skiny 'African Sunset' bikini...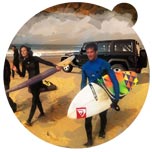 Call for surf travelers who are interested in digital stories, music, cooking, nature...
All-terrain vehicle label Jeep and sportswear and equipment brand Quiksilver call online for...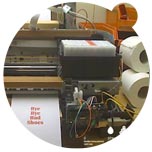 ByeBye to corruptos, chorizos and warm beer
...are wishes that can be found at the 'ByeBye Suela' project by shoe label Art. The people's ideas of things they want to get rid of...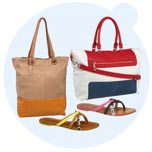 Bags and sandals for summer
...seen at Deichmann's SS2013 lookbook. The leather bag left on the photo is from the '5th Avenue' collection by Hollywood actress Halle Berry...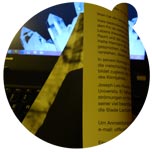 Sit In Series: Day Five
Log series by Fashionoffice publisher Karin Sawetz. Day Five is about the lecture of Harvard professor Joseph Leo Koerner about 'The Viennese Interior'...

Sit In Series Log: Day Four
Log series by Fashionoffice publisher Karin Sawetz. Day Four is about the exhibition 'Big Emotions' at the Kunsthalle Krems, Austria. Tizian's erotic...

Selected SHORT MESSAGES (from the FashionFeeds; FashionFeeds per Email subscription):

+Lifestyle
13 Mar 2013 - Carlsberg asks onliners to think about how far they would you go for a friend
+Music
13 Mar 2013 - #Music video 'Victory' by Dear Reader (aka Cherilyn Macneil), album 'Rivonia' (8 Apr, City Slang; tour in May in DE, AT, CH...)
12 Mar 2013 - #Music 'Waves [ft. Roses Gabor]' by Branko, from the mixtape 'Drums, Slums and Hums' (2 April)
12 Mar 2013 - #Music live performance 'Stabat Mater' by Woodkid, album 'The Golden Age' (release 18 Mar; on tour NL, IT, DE, AT...)
11 Mar 2013 - #Music 'Never Wanted Your Love' by She and Him, album 'Volume 3' (7 May, Merge Records)
10 Mar 2013 - Tecla about her #music video 'Fake Tears' "The styling represents the Afro-Caribbean style of the 1950s with a modern-day flair."
9 Mar 2013 - Live #music 'Children of the Sun' by Dead Can Dance (in April at Coachella festival, from May through summer in EU)
8 Mar 2013 - #Music video 'A Tooth For An Eye' by The Knife about being a girl, maleness, power (album 'Shaking The Habitual', 8/9 April)
+Fashion
10 Mar 2013 - Stone Island #menswear SS2013, #music 'Coffin Train' by Juju and Jordash from 'Unleash the Golem Part 2' (Feb, Golf Channel Recordings)
10 Mar 2013 - #Music video 'Amisexy' by RIKSLYD, clothes by cashmere label Eric Bompard in Parisian chic #streetwear style

Imprint (C) Sawetz, since 1996