Subscribe to the Trendletter!
April 2013 - IV: Summer Tips; Sport and Fashion; Media Culture and Fashion;...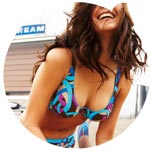 Summer tips: invisible underwear and eye-catching bikinis
Sloggi presented new collection pieces for summer outfits and the beach with photos and videos which...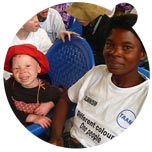 Sun protection!
On occasion of 'Albinism Awareness Day' in Blantyre (Republic Malawi), Austrian headwear label Capo handed out 600 hats and caps with additional UV-protection...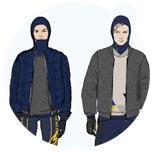 Olympians' fashion 2014, 2016
H&M collaborates with the Swedish national teams for the next Olympic Games in Sochi (Winter, 2014) and Rio de Janeiro (Summer, 2016)...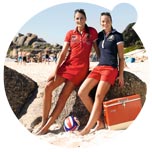 Beach volleyball duo Ilka Semmler and Katrin Holtwick
...are the presenters of Soccx' 'Beachgames' collection. Some call the duo the 'most beautiful' beach volleyball players...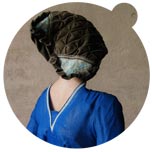 'Lady Glittersky' by Thorsten Brinkmann
...is part of the exhibition 'Faceless' at quartier21/MQ in Vienna. Today's media culture and people's face anonymizing strategies...

Selected SHORT MESSAGES (from the FashionFeeds; FashionFeeds per Email subscription):

+Music
17 April - #Music 'Master Hunter' by Laura Marling, album 'Once I Was An Eagle' (27/28 May)
14 April - Fader asks Wise Blood to use a photo to express his feelings (#music 'Rat' by Wise Blood, album 'id', 25 Jun via Dovecote)
14 April - #Music premiere Glamour: 'Heart To The Party' by Lenka (tours with new album 'Shadows', 2 Jun at Soda Bar in San Diego...)
13 April - #Music download via RollingStone: love song 'Bad Dreams' by Californian duo Touché, debut LP 'It's Fate' (1 May)
12 April - #Music album stream on Fader: 'Chunky Monkey' by ADR (16 April via Hippos in Tanks)
+Beauty, Sport, Photography
17 April - Dove's social #beauty sketches experiment together with FBI trained artist and women who describe their self-image
16 April - University of Toronto researched #gender equality in #sports; differences in sponsorship, dressing, media...
15 April - #Canon Female #Photojournalist Award: coverage of social, economic, political or cultural subject in journalistic manner (submit until 31 May)

Imprint (C) Sawetz, since 1996