Subscribe to the Trendletter!
June 2013 - IV: Shooting Outdoor Furniture; Two Wheels Style; Hairstyle Culture;...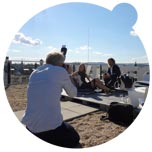 Shooting for outdoor furniture
Behind-the-scene at the shooting of the new 'Low Collection' by Viteo on the roof top of Hotel Sans Souci with panorama view over Vienna...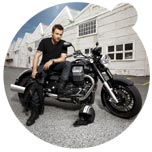 Ewan McGregor's motor cycle style
Actor Ewan McGregor on the new Moto Guzzi California 1400 Custom which was named by Robb Report the 'Best of the Best Cruiser Motorcycle 2013'...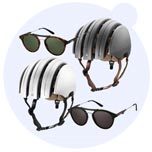 Vintage design of bicycle racing helmets for city bikers
...seen at the foldable helmet collection by Carrera. The design of the helmets is derived from old bicycle racing leather...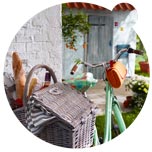 Bike-picnic fever
The European indoor, outdoor design furniture and accessories retailer Depot sent some tips for bike-picnic. Whether it's caused by Vienna Bike Week...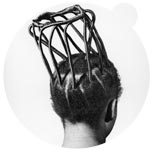 Hairstyle photo documentary by J. D. 'Okhai Ojeikere
...at Il Palazzo Enciclopedico during La Biennale di Venezia shows hairstyles and head wrappings of Nigerian women...

Bundy Bundy artistic team member Philipp Mairleb's hair styling
...achieved the third place at the Fondation Guillaume contest. Inge Prader captured today's gender culture...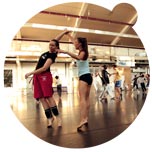 Dance workshops for various abilities and ages
Alongside to trainings for advanced and professional dancers, the Impulstanz Dance Festival Vienna provides workshops...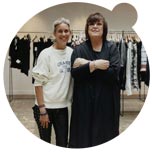 Isabel Marant and Margareta van der Bosch
...provided the first insights into the new collaborative 'Isabel Marant Pour H&M' collection for women, men, teenagers...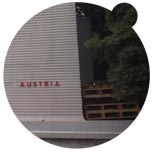 Fashionoffice's top article
...'Content-free and arbitrariness - Austria's representation at #LaBiennalediVenezia' achieves more pageviews than all other articles from 18 years in sum...

Selected SHORT MESSAGES (from the FashionFeeds; FashionFeeds per Email subscription):

#Movies
14 June - #Movie 'Adore', two women (Naomi Watts, Robin Wright) fall in love with each other's sons...(release started, in November in Germany, Austria)
14 June - #Movie excerpt 'From The Sea to the Land Beyond', screening on 15 Jun at Sheffield Doc/Fest (documentary film festival)
14 June - #Movie 'Elysium' with Matt Damon, Jodie Foster, Sharlto Copley... (release starts in August)
8 June - #Movie 'Cloudburst' with Olympia Dukakis, Brenda Fricker; on 16 Jun at identities - #QueerFilmFestival #Vienna

#Music
13 June - Dance-electro-pop #music (download) 'Shodan' by Location
13 June - Synth-pop #music (download) 'Paris' by Magic Man
11 June - #Music 'Barbarians - (CSS Remix)' by NYC's Escort (single package out on 25 Jun; on tour: US, Austria, Portugal...)
10 June - #Music streamed from radio station KCRW 'Honey Pot' by Thom Yorke


Imprint (C) Sawetz, since 1996