Subscribe to the Trendletter!
August 2013 - II: Fashionoffice's selection of Fun-Loving Bags, Convincing Fashion Collection, Haute Couture alike City Scooter...

Fashionoffice selection: superglossy lips-bag
...seen at the new collection by George, Gina & Lucy. The designers were inspired by a journey to Italy, 1950s hotel...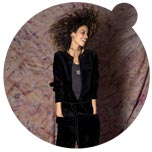 Marcos Valenzuela's Tiberius 'Conquest' fashion collection
...on show on 11 September 2013 at MQ Vienna Fashion Week. "Sometimes conquests succeed simply with a smile" introduces...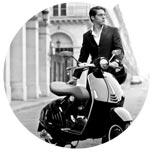 Haute couture alike handmade city scooter
...seen at bike distributor Faber in Vienna. The handmade Vespa 946 is a collector piece (production: only 12 per day)...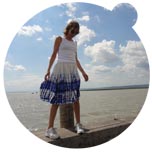 What are 'Big Data' from the cloudy net architecture?
Today, companies all over the world ask for professionals from statistics! The new job is called 'Big Data Analyst'...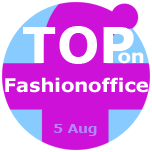 Top on Fashionoffice
Last 7 days, generated on 5 August by FeedBurner, AddThis, Blogger, Google Analytics with additional traffic data by Adsense and Quantcast...

Selected SHORT MESSAGES (from the FashionFeeds; FashionFeeds per Email subscription):

#Music #films #SouthAfrica
6 Aug - #Music 'You Belong To Me' shared by The Veils (cover of Jo Stafford 50s', The Duprees 60s' song)
6 Aug - #Music video 'Never Leave Me' by Karl X Johan, single released on Emotion, album out on 29 April 2014
5 Aug - #Music 'Feelings' by UK-based trio London Grammar from 'Strong' EP; announce debut album 'If You Wait' (both in Sept)
5 Aug - Weekly new short #films by Adrian Steirn about people who changed #SouthAfrica: Nelson Mandela, De Klerk...
4 Aug - #Music 'Best new track' on Pitchfork 'Invisible' by Annie, 'The A&R' EP (release 5 Aug via Pleasure Masters)
2 Aug - #Music video 'No Doubt feat. Rosie Lowe' by Lil Silva, EP 'Distance' (release on 5 Aug via Good Years)
2 Aug - #Music 'Odyssey' by Dream Koala, he says "Odyssey comes from the travels of Ulysses - his fear of never coming back home and never reaching his ambitions"
2 Aug - #Music video 'Über den Dächern' by Ken Hayakawa feat. Vienna-based Julian and der Fux (EP out now via jhruza records)

Imprint (C) Sawetz, since 1996