Experimental design strategies for future urban mobility
For the next Vienna Design Week from 27 September to 6 October 2013, the organizers moved with their office into an old school at the Argentinierstrasse 11 in the 4th district of Vienna. The campaign photos provide insights into the headquarters of this year's festival and give an impression of the intention of Vienna Design Week where professionals from various fields explore new design strategies with academic approach in practical experiments such as at the 'Future Urban Mobility' workshop on 14 and 15 September at the new city area 'aspern Seestadt'. The two-day event is programmed especially for students of the fields industrial design, communication design, urban design, architecture and related design studies. The results of the workshop will be presented on 5 October at the 'Future Urban Mobility' event.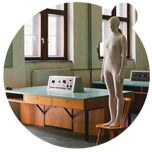 fig. original: Image from the campaign 'Vienna Design Week '13', created by Christof Nardin in cooperation with Vienna-based photographer Daniel Gebhart de Koekkoek. Photo: (C) Daniel Gebhart de Koekkoek.
Source: Original article with image on http://www.fashionoffice.org/culture/2013/viennadesignweek8-2013.htm.

more fashion.at/mobile>

News from
July 2013
June 2013
May 2013
April 2013
March 2013
February 2013
January 2013

subscribe
terms
imprint
(C) Sawetz, since 1996