Austrian designers at Vienna Fashion Week
...seen in early August 2013. MQ Vienna Fashion Week (11 - 15 September) sent the first dates concerning the shows of Austrian designers. Seasons such as Fall/Winter or Spring/Summer are not the main theme at the annual MQVFW; the designers focus more on the presentation of their label's signature style and the interpretation of today's lifestyle.
Fashionoffice mentions only two fashion labels from a long list: Pitour (photo right) and Elfenkleid. Vienna-based Pitour will present her collection on 11 September; the designer is known for her patterns which interplay elegantly with the fabrics' qualities. On the same day, the duo of Elfenkleid will show the label's experimental puristic day and evening wear.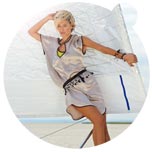 fig. original: The image shows a summer dress by Pitour, Photo: (C) Manfred Mahringer. Autumn/winter day wear outfit by Elfenkleid, Photo: (C) Pia Clodi.
Source: Original article with images on http://www.fashionoffice.org/collections/2013/viennafashionweek8-2013.htm.

more fashion.at/mobile>

News from
July 2013
June 2013
May 2013
April 2013
March 2013
February 2013
January 2013

subscribe
terms
imprint
(C) Sawetz, since 1996