Vienna Insight by Karin Sawetz, publisher Fashionoffice (15 January 2013)

Culture and fashion around cycling in Vienna

On 15 January 2013, I checked what's up in fashion and culture this year in Vienna. One of my sources was the printed exhibition preview 2013 by the MAK - Austrian Museum of Applied Arts / Contemporary Art.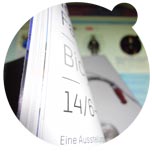 Alongside to exhibitions like the two 'Fashion Lab' shows with focus on new technologies '#01 - Sonic Fabric' (26 June - 13 Oct) and '#02 - Scientific Skin' (30 Oct 2013 - 12 Jan 2014), or the jewellery exhibition 'J E X' (20 Feb - 23 June) about the Austrian artist/designer Petra Zimmermann who turns 20th century pieces such as serial produced rings into brooches with art object appeal, MAK announces 'Tour du Monde - Bicycle Stories' (14 June until 6 Oct) on occasion of the 'Viennese Year of the Bicycle 2013'. At 'Tour du Monde', an installation with bicycles from the Embacher Collection by architect, author and design firm owner Michael Embacher who collects prototypes and other outstanding and rare bicycles, will be on view. Accompanied by 'Bicycle Stories', the exhibition will make aware of the role of this transportation vehicle in today's urban culture from an art perspective.
The last mentioned MAK exhibition is supported by the City of Vienna. And this brought me to another source which combines two interesting themes: fashion and cycling. The special website of the City of Vienna fahrradwien.at/radjahr-2013 announces the 'Bicycle-Fashion-Show' at the Wiener Karlsplatz on 10 and 11 June 2013. Fashion labels from the whole world and design students from fashion schools will present their ideas for cycling in an urban landscape.

Perhaps I will post now a wish for cycling in Vienna to the website's Wish Box and try my luck in co-creating bicycle culture...
Source: Original article with image on http://www.fashionoffice.org/culture/2013/viennainsight1-2013.htm.

more fashion.at/mobile>

News from
December 2012
November 2012
October 2012
September 2012
August 2012
July 2012
June 2012
May 2012
April 2012
March 2012
February 2012
January 2012

subscribe
terms
imprint
(C) Sawetz, since 1996