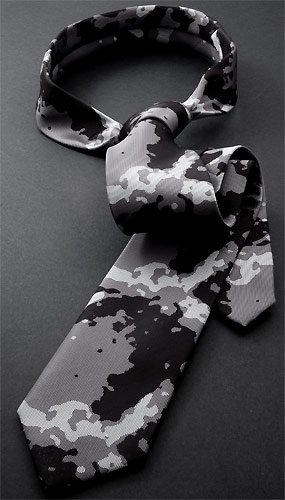 DAVID WIKSTEN spring/summer 2007
Ulterior Motive, the virtual shop for men, collaborates with David Wiksten www.umotive.com
Don't let your life roll over you! Sometimes we have to break hardly. In such cases on highways the tracks of the wheels seem to end suddenly. On this tie, named Heavy Tracker, it becomes a camouflage.
The Swedish designer created for Ulterior Motive three ties under the title TURBO for the ones who love speed:
"For a long time now, I have wanted to incorporate my fascination for cars in a fashion context. With This in view, I created a laddish collection of men's clothes, referring closely to words such as masculinity and horsepower. The focus is on broad shoulders and mechanical prints, with an aggressive surface tempered by a dose of classic tailored silhouettes." more motor >>>
David Wiksten, 27 years old, native from Sundsvall in northern of Sweden moved to Stockholm six years ago to study fashion and art at Beckmans School of Design (Stockholm) from where he graduated with a BA in fashion design in May 2007.