LANCIA YPSILON VERSUS
at PARIS MOTOR SHOW
4 - 19 October 2008
Paris Porte de Versailles

The Paris Motor Show exhibits concept cars, hybrid cars, biofuels, electric cars, ... for visitors who are curious to discover the cars of tomorrow. This year a strong focus are the latest eco-friendly advances. Find out more about special exhibitions such as "Taxis from around the world", Disney will present the life-size stars of the cartoon "Cars" ... www.mondial-automobile.com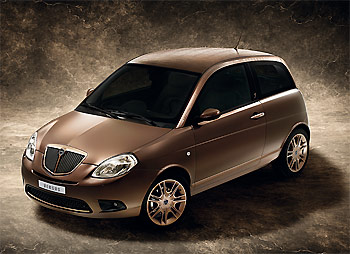 Car Styling by Versace
Lancia will introduce the new Ypsilon Versus, styled by Versus, a Versace group brand for a young, dynamic audience, at the International Paris Motor Show in October 2008. Versace will also dress the models on the stand with garments. The styling will perfectly fit into the scenery of the exhibition space.

Design, Cinema, Fashion are Lancia's languages of reference. For example, Lancia cars are the official vehicles for the Milan fashion week. For Lancia motoring and fashion share important qualities such as talent, creativity and innovation.


more motor>>>


fig.: Lancia Ypsilon Versus (2008). The 'Ypsilon Versus show car' in special Bronzino Bronze body colour bears a screen-printed 'Versus' logo on the roof. The exterior also boasts bronze 16" alloy rims. The original bronze chrome finish is also repeated on the grille, handles, moulding on the doors and rear bumpers and tailgate handle, sporting the Versus logo.
The same strong personality is evident inside, as borne out by special upholstery produced with a band in a cloth that recalls the world of fashion – and a central area in brown leather with a 'Versus' logo heat-printed in relief, just as on the accessories produced by the fashion brand.
The same craftsmanship has been lavished on the pearl-effect leather of the head restraint, adorned with an embossed VERSUS logo, on the dashboard and on the door panels. Everything has been made even more elegant and exclusive by detailing on the instrument panel, sill plate and gearbox that also have the same bronze chrome finish as the exterior features.
The Lancia Ypsilon Versus will be produced in a limited edition (500 cars) and marketed from March 2009.