QUINNY
2009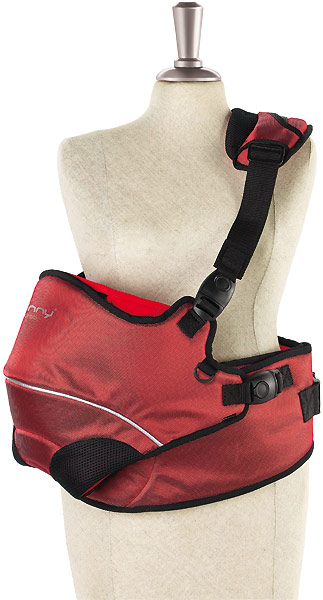 How to look stylish with a kid on a bike

In January 2009 the new Quinny collection hits the stores with new styled strollers under the title 'Perfect Design meets Urban Fashion'. The Canadian company Quinny with headquarters in the Netherlands designs for the modern self-conscious woman who combines motherhood, her job, and her interests. The colors of the collection are chosen after the current trend; so it will be easy to look fashionable just as with following two pieces: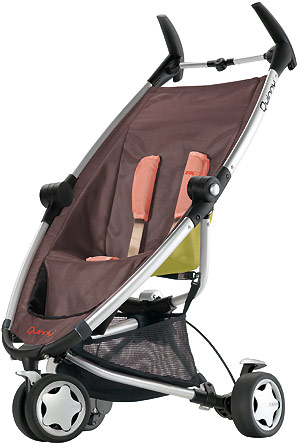 fig. right: The Quinny Curbb is a hip carrier for children up to 15 kg (from 6 to 24 months, from 65 cm). On this image you see the style 'Red Flame Reflection'. Men like the Curbb because they have both hands free and look cool.
fig. left: The Quinny Zapp in style "Breen" with shopping basket. The Zapp buggy is easy to fold to go by train, bike... It is available in sweet 'Strawberry' colors, black 'Storm', grey-blue 'Iron' ... you can choose which fits best to your kid!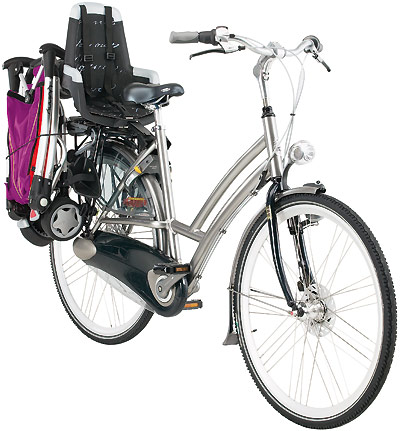 fig.: Zapp Bike Carrier. This special designed carrier for the buggy is comfortable to get with your kid from one place to another in the city.


Riding on Bikes through the City is Trendy
Bicycles are for sure the greenest, healthiest and - not to forget - body shaping (!) alternative to driving in a car. We have asked the readers of Fashionoffice which transportation they prefer: the results in styleradar.com/survey/motor.html (Dec 2008) show that biking on a scooter or a motor bike is more favored than riding on a bicycle.
Retro helmets like the one from G-Star fashionoffice.org/motor/2009/gstar1-2009.htm, stylish bike racks in New York by David Byrne fashionoffice.org/culture/2008/davidbyrne9-2008.htm, sportive pieces by French designer Delphine Murat fashionoffice.org/design/2008/delphinemurat10-2008.htm, or Crumpler's bags, backpacks fashionoffice.org/collections/2008/crumpler9-2008.htm ... the trend for biking in the city - on motor bike or bicycles - is one of the strongest this year.

That's the reason why the new international fair BIKE EXPO will premiere under the title 'Cycling Trends for City and Nature' from 23 to 26 July 2009 at Messe Munich messe-muenchen.de.


more motor>>>


Designer Buggy
In 2008 Quinny collaborated with Danish fashion designer, musical artist and filmmaker Henrik Vibskov. He has designed a number of products (pushchair, buggy, carrycot ...) for a limited edition (available since October 2008 worldwide).
Vibskov, who is renowned for his graphic work, has created colourful prints for the buggy. The imagination of children was the greatest source of inspiration for Vibskov.
Video: Henrik Vibskov about the elements and colors of the Quinny by Henri Vibskov collection. Danish designer Henrik Vibskov earned a degree in men's fashion from Central St. Martins College of Art and Design in London. In 2000 and 2001 he was awarded with the Beck's Future Prize for his films "The Monk" and "The Egg". His graphic work was exhibited at cultural institutions in Denmark, France, Germany and Japan; his fashion has been represented at shows in Copenhagen, Paris and London and during the Festival Internationale des Arts de la Mode in Hyères, France.
"The design process is based on a modern-day fairytale from the mind of Henrik Vibskov. He takes us to a large forest, far from civilisation, where all kinds of colourful figures, who are not accepted in the city, come together. These odd figures start playing music in the woods and form a band. Their songs eventually become very popular and they become world famous and through their music, become accepted by the outside world."
Vibskov translated this inspiring story into three prints (Mad, Rainbow and Raindrop print). On the buggy you will find a toy string with dangling drumsticks, maracas and bells. It embodies the musical fairy tale theme.
And 'Quinny by Henrik Vibskov' offers one piece for the ones who have no baby: the comfortable rain poncho can be worn without a baby too! It has an all-over Mad print and diaper bag that doubles as a super stylish travel or shopping bag. Check out designs by Quinny www.quinny.com.