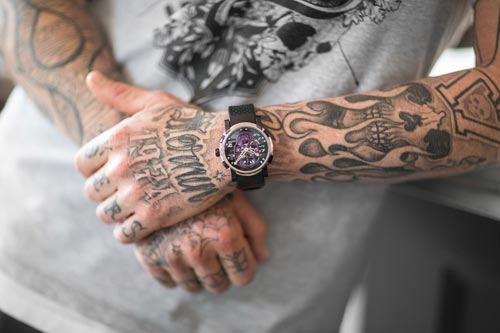 A watch and a motorcycle in a pack
At the end of June 2014, Swiss watchmaker RJ-Romain Jerome presented photos and video of the collaboration with motorbike manufacturer HardNine Choppers' Danny Schneider who reworked a Harley Davidson 750cc (originally owned by the Canadian Army) and co-created an own line of watches. The gold-purple timepiece H9C-DNA with skull on the dial and purple motorcycle with hand-drawings were available as pair which is already sold. Additionally to the exclusive purple pair, RJ-Romain Jerome offers a limited edition of nine HardNine Choppers H9C-DNA timepieces with black steel case and chrome-like skull (the vanitas symbol's surface is described poetically 'mirror colored') on the label's website (fast checked today on 30 June).

Photo: (C) Stéphane Schmutz - www.stemutz.com.