16 July 2016

Porsche Design Woman SS2017 presentation at the Porsche racing track in Leipzig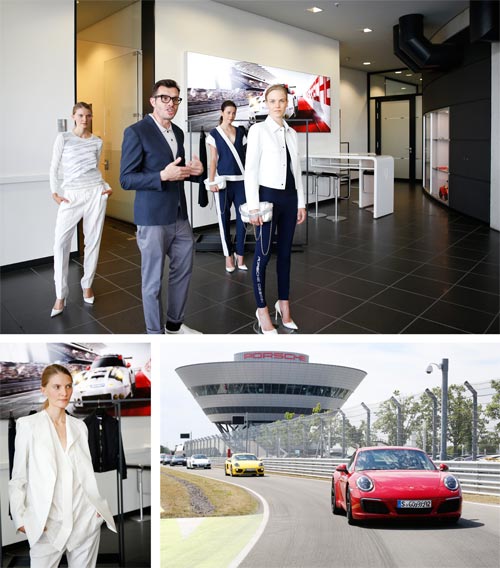 On occasion of the 'Porsche Experience For Women' event at the Porsche racing track on 11 July in Leipzig, the new Porsche Design Woman Spring/Summer 2017 collection was shown. The event was attended by Porsche Carrera Cup racing driver Michelle Gatting who provided tips to drive the racing track.

fig.: Inside the Motorsport Lounge, fashion creative director Porsche Design Pierre Costin presented with models the looks of next summer's Porsche Design Woman SS17 collection.

Image below left: Model in white blazer, wide blouse and trousers at the exclusive preview. Right: Porsche 911 Carrera S drive the Porsche onroad race track.

Pictures captured during the 'Porsche Experience For Women' event on 11 July 2016 in Leipzig, Germany. Photos by Isa Foltin/Getty Images for Porsche AG & Porsche Design. (C) 2016 Isa Foltin.