12 March 2017

Fashionoffice Spring/Summer 2017 tips for urban bikers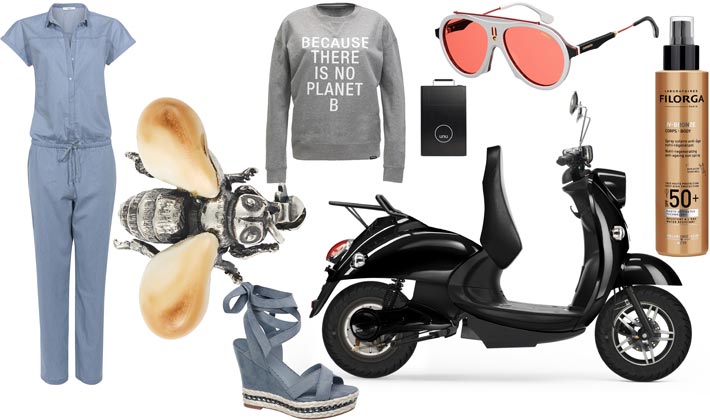 The electro scooter by Unu can be driven without special motor bike license; it's a practical vehicle for the city (max. speed 45 km/h) with rechargeable battery that lasts 50 kilometers. (The image shows the scooter with battery which is stored under the seat; the seat is open at the picture.) The motor is available in three different watt strengths; the prize range starts at 1.699.- Euros. At the website, Unu calculates how much money can be saved each year by using the scooter instead of other means of transportation like a public bus or a car.
A favor of bikes in the design of a scooter - whether driven by electro battery or fuel tank, is that shoes keep clean (thanks to the apron!) while driving on rain-soaked streets. Additionally, the shoes won't take any harm from a foot brake or gear shift. It's an ideal design for wearing shoes like the wedges from the new Ellie Goulding X Deichmann collection. The wedges are available for 34,90.- Euros; the collection was released at the beginning of this month at Deichmann stores.
This Spring/Summer 2017, jumpsuits can be found at many collections. The blue one by Jake's with long pants and short sleeves is made of cotton (59,95.- Euros) and part of the SS2017 range at the department store chain Peek & Cloppenburg (peek-cloppenburg.at).
When riding a bike in summer, skin on hands and arms are always endangered to be burned by sun. Waiting at crossroads for green traffic lights is one of the situations which makes clear that riders on electro scooters have the same rights and obligations like car drivers; the electro scooter isn't intended for driving over sidewalks for escaping the street traffic. Riders have to wait like anybody else - even when it's hot and the sun is merciless. Sun protection on hands, arms and every part of the body which isn't covered is essential for urban bikers. The brand new sun protection 'UV-Bronze' series by Filorga will be released in mid-March at Marionnaud (in Austria); Fashionoffice selected for the urban biker tip the anti-aging sun spray for the body. It enhances the natural bronzing tone and protects at the same time with SPF 50; 150 ml will be available for ca. 34.- Euros. Filorga mixed into the formula the company's anti-aging technology 'NCTF' (New Cellular Treatment Factor) which was developed from professional medical skin therapies applied by dermatologists and beauty surgeons.
The shades are from the 'Flag' collection by Carrera. The limited edition is inspired by ski and racing eyewear's colored glasses designed for better sight on days with poor visibility and weather conditions. The sunglasses are available in stores worldwide and online since this month.
Bee brooch in silver (280,- Euros) by Viennese jeweler A.E. Köchert.
Grey pullover with writing 'Because There Is No Planet B' (79.- Euros) made of cotton and recycled polyester by Ecoalf, Spring/Summer 2017 collection.


more motor>