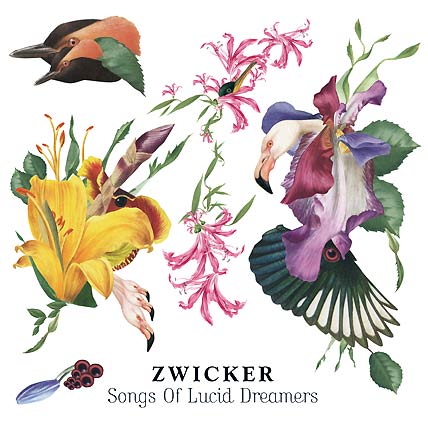 Release party for the album 'Songs of Lucid Dreamers' by Zwicker on 13 June 2009


Song about cosmetic surgery
The new Zwicker album 'Songs of Lucid Dreamers' contains 12 tracks. On his Myspace site the Swiss composer Cyril Boehler (aka Zwicker) provides the lyrics as a PDF download; some of them are written by Cyril himself such as 'Odditiy' (vocals Olivera Stanimirov):

"You used to have two shinning eyes, big ideas and exciting plans, your behaviour sometimes radical, to impress your special friends. You felt the pressure rise, to make a sacrifice to fit in, be like everyone, you had some surgery, cosmetic energy, now your face is gone..."
fig.: Coverart by Viola Zimmermann
The electronic musician, DJ, producer Zwicker aka Cyril Boehler (born in 1969) is educated film music composer (Berklee College of Music, Boston, US) with practical seminar training with famous composers like Ennio Morricone.
Since 1992 he composes and produces music for film-, radio-, multimedia- and radio-projects. He produced music for over 70 commercials productions such as for Red Bull and Henniez beverages, or spots to promote recycling. Under the name 'Tweak', Cyril Boehler collaborated with other musicians.
Check out the track 'Oddity' and details about the record release party of Zwicker's new album on 13 June in Zurich myspace.com/zwickermusik!


more music>>>