14 March 2017

Chart breaking musician Jain contributed the 'Zanaka' illustration of dancing children to a limited Swatch edition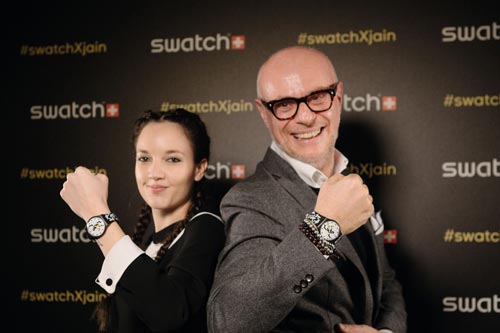 The special edition of the black/white Swatch 'Zanaka' watch with sunny-yellow pointers by French musician Jain is limited and numbered to 10.150 items. Jain writes on her Facebook page that she's been always drawing on objects like shoes or guitars. For Swatch, the singer placed a dancing figure, the 'Zanaka' - means translated from Malagasy 'child' and is also the title of Jain's debut album, on the watch. Similar styled tribal graphics are also on view at video (embedded below) of the chart breaking song 'Makeba'. At swatch.com, closer views of the watch and making of video with Swatch Creative Director Carlo Giordanetti are published.

fig.: The image shows singer Jain and Swatch Creative Director Carlo Giordanetti wearing the 'Zanaka' Swatch by Jain. Photo: (C) By Swatch.