6 March 2017

'Boys Noize X Off-White' street wear reflects Off-White Creative Director Virgil Abloh's view on contemporary life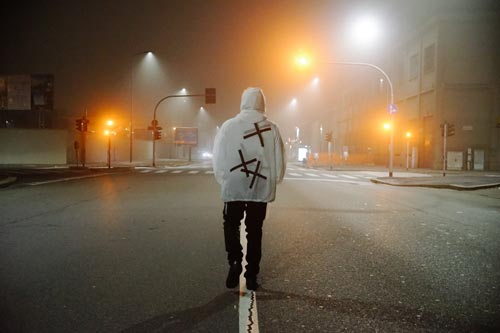 The items of the upcoming collaborative range 'Boys Noize X Off-White' of a t-shirt, hoodie and a semi-transparent wind jacket with crosses and embedded QR code (enables the download of Boys Noize's 'Mayday' remix EP) are inspired by Boys Noize's album 'Mayday' and visualize Off-White Creative Director Virgil Abloh's manifest-like design approach which drives its inspiration from contemporary lifestyle of urbanists (streets and digitalization), is influenced by groundbreaking architecture of the early 20th century and reaches back to the renaissance. Especially mentioned is artist and 'Renaissance Man' (signs broad-based knowledge) Leonardo da Vinci who is famous for his paintings, the invention of technical machines (such as helicopter-like flying machines) or researches on the human body. Da Vinci's drawn study of body proportions, the 'Vitruvian Man' appears on the front side of the t-shirt in a Bauhaus esthetics-like new interpretation and in a more dynamic rotation than sketched by da Vinci.
The semi-transparent wind-jacket (on view at the image above and at the pictures below) tells another thread of Virgil Abloh's design philosophy for Off-White fashion, objects and furniture: the play with black and white which gives the 2013 founded label 'Off-White' its name; the interplay of the two non-colors is explained by Milan-based Virgil Abloh as 'grey zone' for his thoughts which are expressed via design. Opaqueness, transparency stand for this 'grey zone' and can be interpreted as social frame of openness and truth.
The 'Boys Noize X Off-White' range will premiere tomorrow on 7th March in Paris and will be available on off---white.com and at Off-White stores in Hong Kong, Singapore, Tokyo, and at Selfridges London. It's announced that the 'Mayday' remix EP downloaded via QR code includes a yet unreleased bonus track produced by Boys Noize and Virgil Abloh in Berlin.
Tracklisting of 'MAYDAY' remix EP inclusively 'ORVNGE' by Boys Noize & Virgil Abloh:
01. Overthrow (Boys Noize 303 Overdub)
02. Mayday (Club Version)
03. Dynamite feat. Benga(Dub Mix)
04. Rock The Bells (Gila Remix)
05. Euphoria feat. Remy Banks (Boys Noize x MXM Remix)
06. 2 Live feat. T.E.E.D. (Boys Noize Silent Remix)
07. Starchild feat. Poliça (Reprise)
08. Midnight (Raito Remix)
09. Birthday feat. Hudson Mohawke & Spank Rock (Rockwell Remix)
10. "ORVNGE" (Boys Noize & Virgil Abloh)

Next Boys Noize 'Warehaus' tour dates:
3.10 - MILANO, IT @ DUDE CLUB
3.11 - AMSTERDAM, NL @ SHELTER
3.17 - ZURICH, CH @ HAERTEREI
3.18 - ROME, IT @ EX-DOGANA
3.31 - MUNICH, GER @ BOB BEAMAN
4.01 - BERLIN, GER @ TBA
4.13 - PERTH, AU @ VILLA
4.14 - MELBOURNE, AU @ 170 RUSSELL
4.15 - SYDNEY, AU @ METRO THEATRE
4.16 - BRISBANE, AU @ MAX WATT'S
5.19 - VIENNA, AUT @ PRATERSAUNA