17 March 2018

Public and expert jury votes will be counted in weighted 50 : 50 relation for Amadeus Austrian Music Awards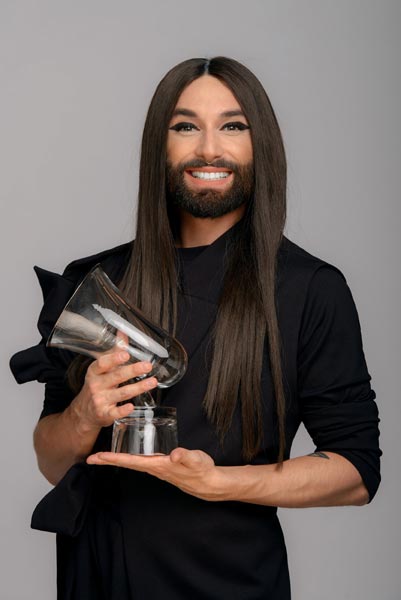 In Austria, winners of the country's most important music prize - the Amadeus Music Award in various categories like pop/rock, alternative, jazz/world/blues, etc, will be co-selected from the list of Nominees 2018 by users via online voting, currently running on amadeusawards.at. The numbers of the public online voting will be counted into the final results in a weighted relation of 50 : 50 with the votes of the Amadeus jury consisting of more than 100 experts from music and media. The nominees were selected after sale numbers of last year and jury rating; sales and jury evaluation were weighted in the relation of 50 : 50 and delivered two bands as the ones with the most nominations: Bilderbuch (several tracks by the band have appeared as music tips on fashion.at/music) and Wanda.
Other bands which have been included already in fashion.at/music are Leyya (nominated in the category 'Alternative' for example) or Parov Stelar (Electronic/Dance).
fig.: Singer and drag artist Conchita Wurst (aka Tom Neuwirth, won as 'Conchita Wurst' the Eurovision Song Contest in 2014) will be the host of the Amadeus show on 26 April 2018 in Vienna. At the image, Conchita Wurst holds the awards trophy - a glass megaphone. The 18th Amadeus Austrian Music Awards will be broadcasted on the same day from the Wiener Volkstheater via TV (ORF eins, starting 21:55).