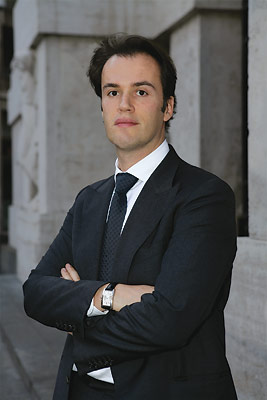 Internet: Fashion's burning moment
presented by PambiancoWeek, May 2008

David Pambianco, Director of Italy's top fashion business magazine PambiancoWeek, presented in May 2008 the quantitative research "Internet: Fashion's burning moment" by Milano based Pambianco Strategie d'Impresa.
Pambianco has made more than 2.000 interviews by telephone between November 2007 and January 2008 with consumers in Italy and Germany about their sources of information on clothing, lingerie, leather goods, footwear, jewellery, watches and where they are buying these products.

Germans and Italians Online Germans use the internet more for shopping and less for entertainment than Italians. The Germans surf directly to the address where they get their information. While the Italian consumer enjoys the internet more: he/she loves to surf the web for no specific reason. This results in another behaviour to get information on fashion products: brand websites are regularly visited by Germans more often than Fashion News Sites while the Italian gets information from both sources approximately equally.
For navigating with an search engine through the net 90% of Italians and 98% of Germans use Google.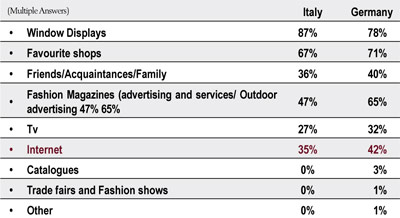 Information + Purchase
The team of Pambianco has found out that "Internet is now the primary source of information on fashion and luxury products". Although the Internet is low ranked after the window displays, store, friends, and printed magazines and TV as main sources for information on fashion products, the new medium becomes for the purchase more important. "...about one-quarter of the consumers who browse the net to get information on fashion items then concretize their purchase in the store."
fig.: Source: Pambianco Strategie di Impresa

Women are still not so active as males on the internet; neither in Germany nor in Italy. In general e-shopping is in both countries, Italy and Germany, still dominated by men. But for the fashion business women break the online-statistics:

"...German women already make up the majority of internet fashion shoppers...".


more survey>>>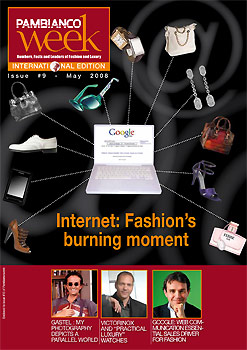 The full story Find out details about the preferred information-sources, most popular shopping websites, products which are bought from consumers in Italy and Germany ... www.pambianconews.com/allegati_upload/20080506183847.pdf

Pambianco Strategie di Impresa Since 30 years the company researches on fashion business and provides luxury companies with consulting services. Pambianco Strategie di Impresa was founded by Carlo Pambianco in 1977.


PambiancoWeek is Italy's top business magazine specialized in the fashion and luxury industry. PambiancoWeek offers even TV on the net. Check out the interesting video-interview with Kevin Carrigan, Creative Director ck Calvin Klein , about his approach to design>www.pambianco.tv/OnDemand.aspx?VIDEO=70

You can subscribe to the International Edition of Pambiancoweek
www.pambianconews.com/registrazione.aspx?LN=EN