MANUEL BOZZI 2008
Manuel Bozzi, born in Pisa (Italy) in 1973, started his own company Clan Banlieue in 2003. Since 2004 he presents his collections of jewels and accessories worldwide.
In March 2006 a techno-minimal music piece with The Sound of Jewels, produced by Prudo (an Italian DJ), accompanied for the first time a collection.

The design by Manuel Bozzi seems masculine. Is it a "men's" collection?

"The design of Manuel Bozzi's jewels is (conceived to be) "unisex". Some jewels come across as strong but romantic, others gentler but decisive. The feminine and masculine aspects are always present...and it's exactly that coexistence of both components that gives Manuel's jewels the "romantic determination" that characterizes them. So the final choice belongs to the consumer, who in perceiving in a subjective manner the form, weight, and size, will find that which is closest to his/her nature."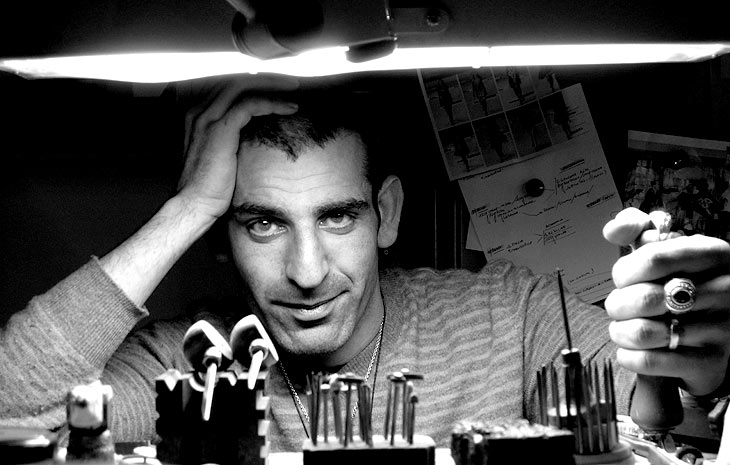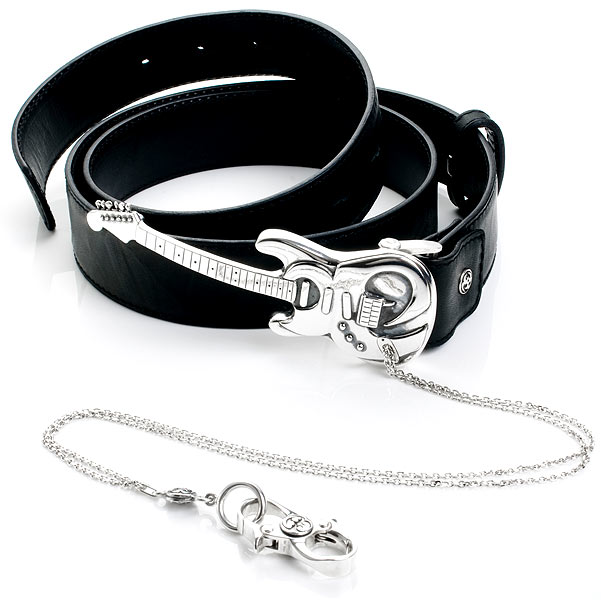 Season 2008
University of Rock 'n' Roll
The current collection is inspired by Rock Music and biking. Manuel Bozzi pays homage to musicians such as Keith Richards and the "hot asphalt years" of the 60's and 70's.
Manuel Bozzi has received the "Premium Young Designers Award" in the category "Best Accessories Designer" with the masterpieces of this collection: three guitars belts "Stratocaster", "Les Paul" and "Flying V". The luxurious pieces are hand made in black cowhide with buckle jewel in sterling silver.

photo: Manuel Bozzi, guitar belt "Stratocaster", 2008. Sold in boutiques all around the world such as L'Eclaireur in Paris, H Lorenzo in Los Angeles and Tsum in Moscow.

more who is who>>>

The early years : Manuel Bozzi studied graphic design. After working in arts and antique crafts, theater, communications, painting and sculpture, Manuel became goldsmith following the teachings of his mother Lydia Nissim, a renowned Italian artist. Since September 2000 Manuel Bozzi designs and creates accessories and jewels (men/women) for the French brand Marithé + François Girbaud. In 2001 Manuel realized a special Barbie doll (Mattel) together with a closely selected group of famous names from worldwide jewelry. Since 2002, Manuel designs accessories and jewels for other fashion houses. He collaborated with Buttero (footwear), Allegri (clothing), Black Dog (gothic jewelry), Elie Tahari (clothing), Jeff Parker (fashion accessories), Parajumpers (clothing), Santiago Rivera de la Viuda (jewels), Elena Meyer (bags and jewels), Royale (private label).