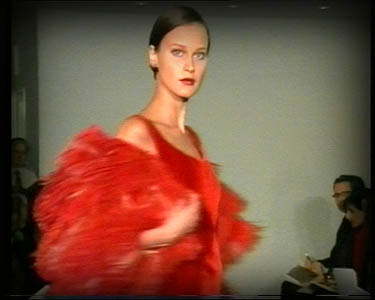 BILL BLASS
SS 2001>>>

As Creative Director for Bill Blass Ltd., Steven Slowik is charged with continuing air American fashion dynasty. Hand picked by Bill Blass, the Paris ready-to-wear designer was selected in February 2000 and has since established his home base in New York.
"I am honored to carry on the tradition of elegance and quality associated with Bill Blass", said Steven, "and I look forward to satisfying the needs of our loyal customers and expanding our customer base worldwide".
Born 1960 in Detroit Michigan, Steven Slowik moved to New York in 1978 to attend Parsons School of Design where he won a coveted Designer Thimble Award. After graduation in 1981, he held design positions at Albert Capraro, Kasper for J. L. Sport and Albert Nipon Collectibles leading up to a position as senior designer at Calvin Klein, from 1986-1988. In 1998 Slowik moved to Florence, Italy to design and develop the women's ready-to-wear and accessories collections, for Salvatore Ferragamo Spa.
After 1991, he continued to work with Ferragamo, dividing his time among Florence, Milan and Paris, where he made his home. Backed by family and friends, Slowik began showing his ready-to-wear collection in Paris, in 1995.
This collection, produced in Europe, was sold to a prestigious international clientele by such stores as Saks Fifth Avenue, Neiman-Marcus, Bergdorf-Goodman, Barney's and Stanley Korshak, in the United States; Harvey Nichols in London; Victorre in Paris; Penelope, Alex in Italy; Belinda in Sydney, Third Culture in Tokyo. Today, Bill Blass and company CEO Michael Groveman, agree that Steven is poised to lead Bill Blass Ltd. in an exciting new direction.
"I will continue to remain involved with the company as a consultant", said Mr. Blass, "however, the talent that Steven displays makes me confident that he will uphold the standards we have maintained through past years and propel the company into the new millennium".
550 SEVENTH AVENUE NEW YORK, NEW YORK 10018 TEL (212) 221-6660 FAX (212) 302-5166