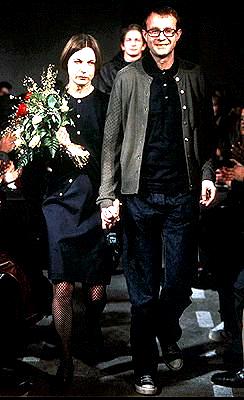 BURRO 1999

"we let you decide"
"we intend to create clothes without ridiculous artifice, whilst combining uncommon detail with satisfying wearability"
"acknowledging the importance of the wearer"
Burro is a London based designer menswear label whose forward thinking approach and dynamic design, rapidly establishing it as one of the most directional and innovative British mens brands. The collections are original and eclectic with a strong English feel. The ideas behind the collections are, like the clothes, suprising, individual and farsighted. . The strength of Burro's design has resulted in extensive and regular press coverage in the style media, National, International press and Television. Burro run two campaigns per year in the style press.
Burro's flagship store opened in 1993 and is located in Floral street the heart of London's fashionable Covent Garden with showroom and design studios adjoining. Burro is one of a select group of British designers currently showing on the Internationa) catwalk circuit, this combined with an excellent press profile has generated a worldwide following. Burro export worldwide and in recognition of excellence in exporting were awarded the BKCEC NatWest Business Export Award.

contact: 19a Floral Street
Covent Garden
UK - London WC2E 9DS
office 0171 3796866
studio 379 7896
shop 240 5120