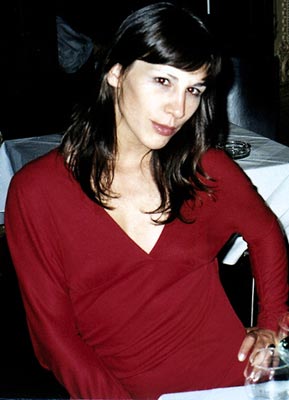 ANNA FUCHS 2004
Anna Fuchs, born and raised in Hamburg, Germany, with a stint in South America, has always been fascinated by the cool style of the 30's. Especially by the chic and seductive divas, as well as the
flair of power, sex and danger of that time. No wonder that her fashion is strongly inspired by the Film Noir's timeless elegance, mystery, and
melancholy.
With great respect for exclusivity, excellent tailoring and only the best fabrics, Anna Fuchs realized the dream of her own high-end fashion
label "Anna Fuchs Hamburg" in 2000. She opened her first designer store in Hamburg's emerging and artsy neighborhood "Karolinenviertel".
Since then, Germany's scene has discovered her authentic and cutting-edge but timeless fashion for themselves. Her list of faithful clients include VIP's like songwriter Nena ("99 Red Balloons"), actress Alexandra Kamp, and Viva TV VJ's Heike Makatsch and Enie van de Meiklokjes.
Last year, Anna Fuchs was nominated for "Best New Designer" at the New Faces Awards held by Germany's leading people and entertainment magazine BUNTE.