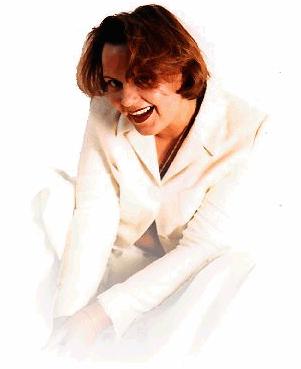 NATALIA KONDRATIEVA 1999
fashion hair designer

Saint-Petersburg is the second Russian capital - the city, where Natalia was born, spent her childhood, and now is spending her eternal youth.
From her first steps Natalia revealed love to the freedom (as a main part of creativity). From her kindergarten she hates everything that should be done under the pressure. So, when she decided to become a hairdresser, nobody, including her parents, could interfere her to realize her intention.
Natalia's first fantasy hairstyles started to visit her in dreams. Her teachers in a hairdressing college appreciated her original models. After finishing the college, Natalia was given a name of «The hairdresser of the first class».
From her first steps Natalia began to win: in 86 it were first places in district competitions among hairdressers and in 96 it were victories at the international championships in Czech Republic, Poland and Finland. During those 10 years she won more than 30 prizes.
Since 92 Natalia is a coach of St.-Petersburg team of hair fashion designers. Her apprentices won many prizes all around the world. Every year Natalia Kondratieva organizes a carnival of her hairstyles, where she represents her new fantastic collections. Also since 98 she holds yearly Saint-Petersburg Open Hairstyling and Makeup Championship where masters from any beauty salon may show their best works.
This year, in May, Natalia has created her website at www.kondratieva.da.ru, where everybody can find all about her creativity and more than 150 fantasy hairstyles, created by her and her apprentices.