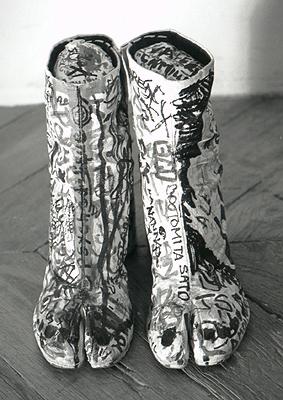 MARTIN MARGIELA 1999
1977/9
Antwerp, Belgium. Royale Academy of Fine Art Fashion Department.
1984/7
Paris, France. Jean Paul Gaultier, Design Assistant.

LA MAISON MARTIN MARGIELA
1988
Paris. Founding of La Maison
Martin Margiela with Ms Jenny Meirens.
1988
Paris. lst Martin Margiela Collection Spring/Summer 1989 Women's Ready to wear
1989-To date
Paris Bi-annual collections Spring/Summer Autumn/Winter
1993, Oct
Paris Presentation of Spring/Summer 1994 Martin Margiela `Retrospective' collection.
1994,Sept,07
Paris, Milan, Simultaneous presentations New York, Tokyo, of A/W 1994/5 Collection London, Bonn. at boutiques in each city replaced March 94, Paris based show. Clothes shown to public when in shops.
1996, Sept
Florence, Italy Participation in Florence Biennale on Fashion & Art, "Visitors" section, Museo Bardini.
1997, June,11
Rotterdam, Holland First solo Maison Martin Margiela exhibition, (9/4/1615) at the Museum Boijmans van Beuningen June 11th - August 17.
1997, Oct, 14
Paris, France Joint presentation of Martin Margiela collection in conjunction with Comme des Garcons. Each collection for Spring/Summer 98
1998, March,09
Paris, France Presentation of 1st Hermes Ready to Wear collection for Women designed by Martin Margiela.
1998, March,10
Paris, France Presentation by Maison Martin Margiela of the visions of Mark Borthwick, Jane How and Sydney Picasso on the Martin Margiela collection for Autumn/Winter 1998/9.
1998, Sept
Florence, Italy Participation of Maison Martin Margiela in the 2nd Florence Bienale on Fashion (this time on fashion & Cinema).
1998, July
Milan, Italy Sales of first group of Men's garments proposed by Maison Martin Margiela.
1998, Oct
Paris, France Presentation of the 20th Martin Margiela Women's ready to wear collection.