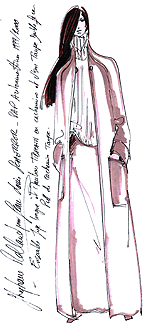 JEAN-LOUIS SCHERRER 1998
The Fashion House was created in 1962 by Mr JEAN-Louis SCHERRER - 182 rue du Faubourg Saint-Honoré -PARIS, where he shows his first collection in the vaulted cellar of a wine dealer.
After one season he can count amongst his most important clientele those who make the reputation of famous Maison de Couture : Baroness Von THYSSEN, Mrs. PATINO, Farah DIBA, Princess FAISAL, Mich6le MORGAN, Marie LAFORET, Francoise SAGAN.
BERGDORF GOODMAN America's foremost fashion store, signed a contract of exclusivity with him thus placing jean-louis scherrer on the same level as DIOR, GIVENCHY, SAINT-LAURENT.
In 1971, JEAN-Louis SCHERRER moves to 51 avenue Montaigne. Realizing the importance of Ready-to-Wear line, the Fashion House launches "SCHERRER BOUTIQUE" distributed and controlled by the House and its technical crew, produced with all high fashion technics and requirements for quality. SCHERRER BOUTIQUE is sold throughout the world in the JEAN-LOUIS SCHERRER shops, including 23 in Japan, and 200 shops in the most prestigious cities.
In 1976, the Morton Norwich Group deciding to sell ORLANE, the group including JEAN-Louis SCHERRER, Mr Jean-Louis SCHERRER takes over the management of his company.
In 1979, JEAN-Louis SCHERRER launches a first perfume " JEAN-LOUIS SCHERRER > in. collaboration with the Francaise de Soins et Parfums (a subsidiary company of UNILEVER).
In 1986 a second perfume is launched : " SCHERRER 2 " In January 1994 a third perfume is launched " INDIAN NIGHTS " which immediately makes a big success due to an outstanding fragance and a remarkable packaging making it a worldwide bestseller.
1994 is the year of the creating of a new line " Couture " a totally new concept which achieves a great success, in Japan among others.
At the same time, licensed products have taken place in the field of accessories. In 1997, JEAN-Louis SCHERRER is sold to E.K. Finances, a French group which already owns EMMANUELLE KHANH, JACQUES FATH and HAREL brands. Haute-Couture, Ready-to-Wear and Accessories are now designed by Stéphane ROLLAND.
51 AVENUE MONTAIGNE - 75008 PARIS
TEL. : 0033 1 42 99 05 79; 56 59 98 43
FAX : 0033 1 42 99 05 05