Valentino 2007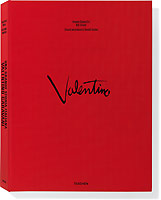 A new book opens the door to the luxurious world of Valentino: "The glamorous life and work of Valentino Garavani" with contributions from famous fashion writers such as Suzy Menkes from the International Herald Tribune and Matt Tyrnauer/Vanity Fair magazine is available from September 2007 in a limited edition published by Taschen (find your online store www.taschen.com). Editor Armando Chitolina who worked as art director for various magazines, including Vogue Italia and L'Uomo Vogue, collected personal texts from famous friends of Valentino such as Farah Diba, widow of the late Shah of Iran; Rupert Everett, English actor; John Fairchild from Women's Wear Daily; ... to give us a very lively image from the man who opened his fashion house in Rome in 1959, created fashion for Elizabeth Taylor, Jackie Kennedy, Audrey Hepburn,... and is today known around the globe simply by his first name: Valentino.
Read this book and think "Valentino": think luxury, think elegance, think red carpet. more who?who>>>
fig.: Valentino in his workshop in Via Gregoriana. Photo Valentino Archives.