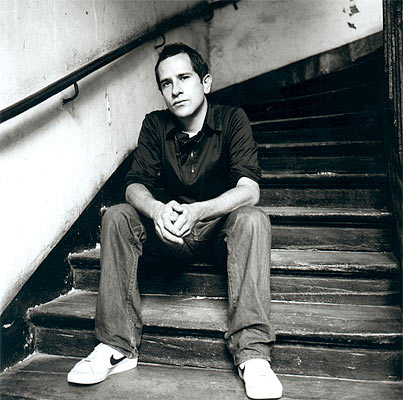 GASPARD JURKIEVICH 2004
Born 16. May 1972 in Paris
studied from 1991-93 at the Studio Berçot (Stylism Lessons)
practize at Thierry Mugler, Jean Paul Gaultier, Jean Colonna, winner of the ANDAM competition and the 12th International Festival of Art and Fashion at Hyères
Gaspard Yurkievich reflects the glamour of youth from the streets
FASHION SHOWS
March02
Fashion Show Prêt-à-porter Fall/Winter 2003 «I DID IT MY WAY « at the PETIT PALAIS
SPONSORCHIP L'OREAL, EVIAN, DUPONT DE NEMOURS, VAN CLEEF & ARPLES, MAC COSMETIC
Oct 01
Fashion Show Prêt-à-porter Spring/Summer 2002 «VENUS WORLDWIDE» at the CRAZY HORSE
SPONSORCHIP L'OREAL, VAN CLEEF & ARPLES, CRAZY HORSE
March 01
Fashion Show Prêt-à-porter Fall/Winter 2002 «MINUITMALIST»
SPONSORCHIP ERAM, L'OREAL, TENCEL
Nov 00
Joint Fashion Show in Tokyo (Japan)
Oct 00
Fashion Show Prêt-à-porter Spring/Summer 2001 «PARADE»
SPONSORCHIP NOKIA, LEVIS RED, TENCEL, MAC COSMETIC
Sept 00
Joint Fashion Show in New York(USA) / invited by TENCEL
June 00
Joint Fashion Show in Zurich(Switzerland)
Avril 00
Joint Fashion Show in Singapur
Feb 00
Fashion Show Prêt-à-porter Fall/Winter 2001 at Espace Richelieu»KISS ME FOR ELEGANCE»
SPONSORCHIP MANDARINA DUCK,SAGA FUR, SWAROVSKI, TENCEL
Oct 99
Fashion Show Prêt-à-porter Spring/Summer 2000 «STILLETOES»
SPONSORCHIP MOBICARTE, TENCEL
June 99
Fashion Show in Sao Paulo (Brazil)
March 99
Fashion Show Prêt-à-porter Fall/Winter 2000 at Printemps Haussmann «PARIS IS.»
SPONSORCHIP TENCEL, LE PRINTEMPS
Oct 98
Fashion Show Prêt-à-porter Summer 99 at Carroussel du Louvre «COURT, CARRE.»
SPONSORCHIP BOURSE DE L'ANDAM, TENCEL
September 98
Levis Fashion Show : special creation of an outfi t from « Sta Press » Denim
10/03/98
Fashion Show Prêt-à-porter Fall/Winter 99 «DISTRESSED»
SPONSORCHIP MAC COSMETIC

WORK EXPERIENCE
September 99
Creation of a special collection for Prisunic / Monoprix
June 99
Creation of a special collection for La Redoute
March 96 - October 97
Personnal Assistant of Isabelle Roque (public and press relation agent) for designers like Zucca, Colette Dinnigan, Sergio Rossi ... (Organisation and
preparation of their fashion shows).
January 94 - June 94
Assistant of Jean Colonna

COMPETITIONS
98 : Winner of the ANDAM competition
May 97 :Winner of the 12th International Festival of Art and Fashion at Hyères, for the women collection as well as the 3 Suisses Price - Exclusive collection designed for the 3 Suisses. Jury including Hussein Chalayan (president) and Martine Sitbon, José Levy, « Self Service », Evelyne Clauss, Nathalie Dufour, Fathia Habchi, Kappauf, Marc Sillard, Ossui Nakamura.
December 96 : Selected in September 1996 and invited to take part in the Young Designers Fashion Show of the Senken Shinbun in Tokyo. Jury composed by Atsuro Tayama (designer), Junko Ouchi and Akira Oda (journalists).

EXHIBITIONS
Oct 01 : « PEAU D'HOUSSE » project in collaboration with Florence Doleac RADI – exhibition « in oragnic » RADI DESIGNERS at SANDRA GERING
New York.
Sept 00 : « A SUIVRE » Joint exhibition at Musée Galliera
Sept 00 : Joint exhibition at CHRITIE'S PARIS
July 98: LES PLUS DE LA MODE at Musée des Arts Décoratifs - exhibition of the «30 important silhouettes» of the show in Paris - one outfi t of winter
99 collection exposed between COMME DES GARCONS, John Galliano, Jean Paul Gaulthier, Martine Sitbon...

PRACTIZE
April 93 - June 93 : Jean Paul Gaultier
June 92 : Thierry Mugler