Fashion beach impressions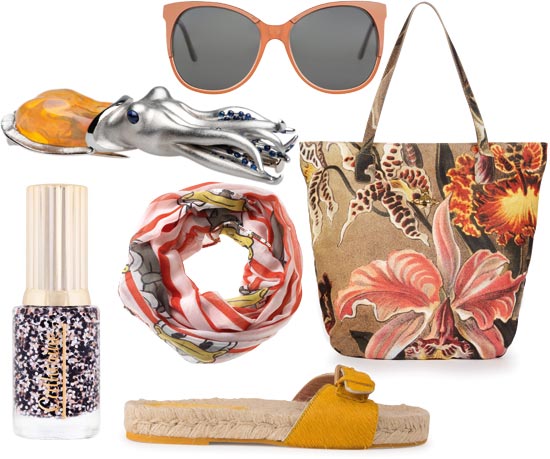 ...from the current and upcoming collections by Andy Wolf, Vivienne Westwood, Fred de la Bretonière, Codello, Catherine Nail Collection and jeweler Pejrimovsky & Co; selected in early December 2014.
fig. from above clockwise:
Vienna-based eyewear label Andy Wolf presented this December pieces in one of Pantone's Spring/Summer 2015 colors, 'Marsala'. Marsala is according to Pantone one of the basics of the color scheme of next season's fashion for women (video about the ideas and references to designer collections on pantone.com). Marsala is associated with wine, earth and eating; the color stands for stress releasing and escapism. On the photo, Andy Wolf's 'Mod. Reverence col. g' sunglasses are on view. (Photo by Markus Trinkel).
The bag by Vivienne Westwood is from the current Fall/Winter 2014/15 collection and shows several of the upcoming new tones of next season. The fully blooming orchid print is colored in creamy pink-rouge 'Strawberry Ice' with red-wine 'Marsala, surrounded by soft sunny vanilla 'Custard' and tropical fresh fruity 'Tangerine' flowers on neutral beach sand 'Toasted Almond'.
The honey yellow full-grain leather sandal with sole which is - like classical espadrilles, made from braided plant fibres is from Fred de la Bretonière's Spring/Summer 2015 collection.
The scarf is from the 'Disney'-collection SS2015 by Codello. The collection with Minnie Mouse and Daisy Duck prints consists of scarves, gym and beach bags. (Announced to come into stores in March 2015).
The nail lacquer by Catherine Nail Collection is inspired by the book/movie '50 Shades of Grey' and is one of a series; each of them stands for other desires (Devotion, Transition, Domination). The one below carries the name 'Devotion' (stands for sensuality) and comes in a box of three nail lacquers (the Paint Over Lac which is on view on the image, the White Base and Lac in maple); available in mid-January 2015.
And the 'Oktopus'-brooche is from the Xmas-tip list sent by Viennese jeweler Pejrimovsky & Co. The octopus is fresh! A picture on Facebook shows the jewellery just before it was finished.

Photos: (C) The mentioned brands.


more collections>