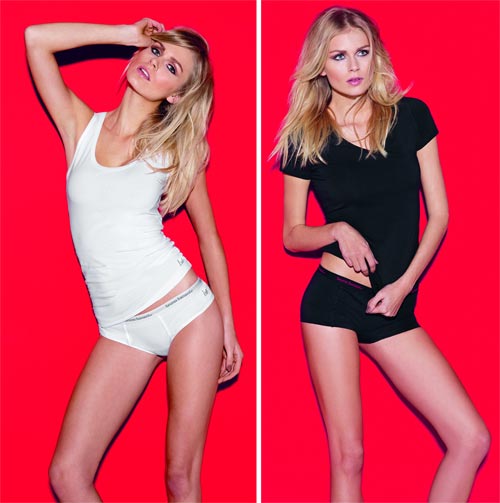 Krampus and Saint Nicholas underwear tips
...sent by Bruno Banani in November 2014.
In Austria, Krampus (5 December) and Saint Nicholas' Day (6 Dec) were discussed heavily during the last years. The question was if the two figures are really kids friendly. There wasn't so much doubt about the role of Saint Nicholas (brings the gifts), but the agenda of Krampus (punishment of naughty children who did wrong) wasn't accepted by many. These discussions haven't diminished the attraction of the couple. Especially in fashion (for adults), the story of punishments and pleasures stimulates the creativity such as seen at Bruno Banani's tips which were sent with the title 'Bad Girl vs. Good Girl … Krampus vs. Nikolo!' and shows two women basic underwear combinations from the 'Smoothly Cotton' collection in sporty style. Fashionoffice has no further information which of the two the bad one is - both look good.
fig.: Sports shirt and rio slip in white, V-shirt with panty in black; 'Smoothly Cotton' collection FW14/15 by Bruno Banani.


more collections>