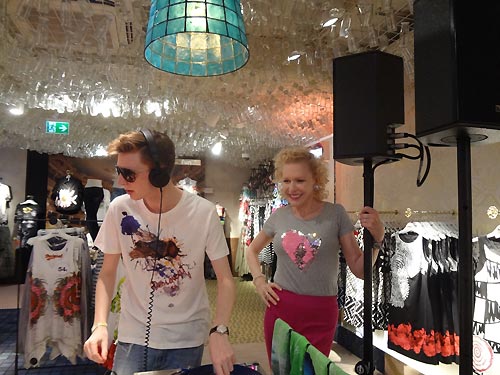 Vienna Insight
by Karin Sawetz, publisher Fashionoffice (21 March 2014)

Desigual shop opening party in Vienna
Recently, I visited the shop opening party of Desigual's new flagship in Vienna. I was there before the party became 'hot'. So I had enough place and time for taking pictures of the two-floor store at the Kärntner Strasse and for speaking with special guests such as Sunnyi Melles; the actress visited her son Constantin Sayn-Wittgenstein who stood behind the turntables.

The ceilings of the two floors are decorated with bottles; not wine or beer bottles, they look more like containers for smoothies or green tea-beverages. Desigual's typical patterns - they remind Spanish crochet arts & crafts and daisy flowers, are applied on the walls and glass fences of the 335 square metres shop. On the second floor, I saw wooden boards with writings which are typical for the lively collections such as 'sex' and 'love' (photo below, right; Fashionoffice published recently an article about Desigual Spring/Summer 2014). In between the clothing, shoes and accessories for women, men, kids and babies, fashion videos ran over digital screens, such as on view on the last image on this page.
On the next day I received the information that around 200 guests attended the party; well, I don't have closer information about that as my exploration ended before the store was completely filled with the Viennese fashion crowd.

Photos: The images were taken at the Desigual flagship store opening party on 19 March 2014 at Kärntner Strasse 32-34 in Vienna.





more collections>