Items for the evening
...selected from the collections by French-Austrian Berlin-based fashion designer Marina Hoermanseder, Italian luxury brand Bulgari (jewellery, accessories) and shoe brand United Nude (by Dutch architect Rem D Koolhaas and Galahad Clark, 7th generation of British shoemaker family) in late December 2014.
(Closer information about the pieces below.)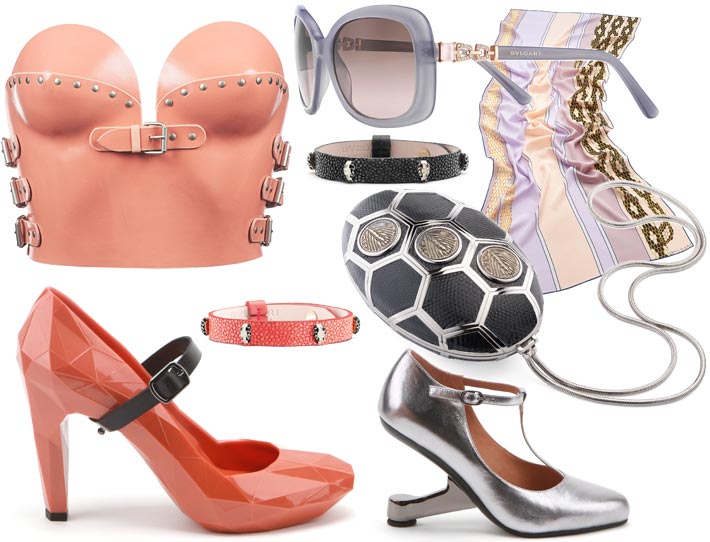 fig. from left: The lacquered bustier is from the Spring/Summer 2015 collection by Marina Hoermanseder. The label was founded in 2013 and received in short time international attention for art-sculpture inspired fashion pieces which remind orthopedic corsets and appear like cast mouldings or correction leather-bandages. One of the corsets was worn recently by FKA Twigs during her performance of 'Two Weeks' at Jimmy Fallon's 'The Tonight Show' in early November - similar to the one on this page. Marina Hoermanseder is one of the most interesting dates at the upcoming Mercedes-Benz Fashion Week Berlin; her show is announced for 22 January 2015 (MBFWBerlin schedule). Photo: (C) SE7ENTYN9NE.
The sunglasses, scarf, bracelets (in salmon red and black) and bag are from the accessories collection Spring/Summer 2015 by Bulgari. The heritage of the label which started as jewellery house in 1884 is signature for the accessories.
The sunglasses MVSA are bejeweled at the frame with a Takhti cut rose quartz stone and with crystals which are set into a metal chain. (Photo sunglasses (C) Antonio Barrella)
The striped georgette (silk) stole in rose and light lilacs is edged on two sides with the print of reptile-snake skin.
The galuchat skin (term for shark or ray skin) 'Serpenti'-bracelets in black and salmon red feature light gold snake head motifs with black and white enamel and green enamel eyes.
The evening jewellery bag Melone Minaudière is made of black shiny lizard skin with palladium plated metal parts and Tubogas chain strap. The collection is in stores now. Photos: (C) BVLGARI.
The shoes - the 'Lo Res Pump' in peach and the silver steel+gun 'Eamz Tara', are from the current collection by United Nude, seen in December 2014 at the brand's store in Vienna.


more collections>