Underwear and socks for professional ski racers and relaxed nature enthusiasts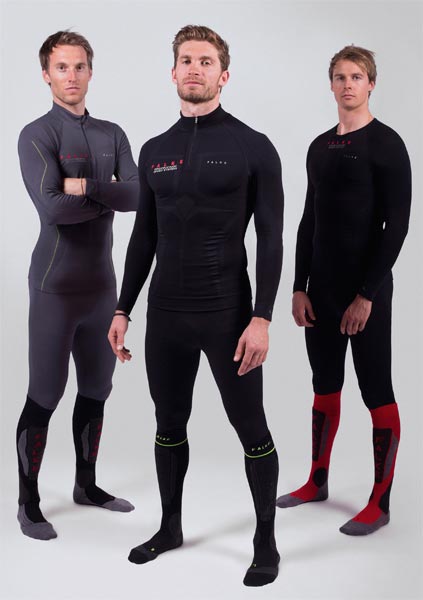 The professional alpine ski season started this year with the first competitions in Sölden, Austria in October 2014. Currently, the athletes are just back from Canada, US in Europe (Sweden, Italy, France - Alpine Skiing World Cup calendar checked on 18 Dec). How they are dressed and which labels were selected for providing the clothes is each year again interesting because the brands incorporate the requirements of the professional sports men and women into the collections.
One label which is a long-term outfitting partner is leg- and underwear producer Falke. The brand cooperates with the Austrian Ski Team (ÖSV) since 20 years. Since this season, even the Alpine Ski and Ski Cross teams of the DSV (German Ski Association) wear socks and underwear by Falke.
fig. from left: Members of the DSV (Deutscher Skiverband); Fritz Dopfer, Andreas Schauer, Stefan Luitz in various socks and underwear from the
Ergonomic Sport System collection by Falke. On the photo, the athletes wear what fits them best. The underwear is designed for high-performance sports with features like compression technology and textile layers which enhance thermal circulation.
Fashionoffice looked through the current Falke collection and selected two pieces which are very probable not suitable for racers during World Cup Ski competitions but convenient for relaxed nature enthusiasts on mountains - on bike, on a Haflinger horse, on feet (walking, running) or on skis (in a moderate speed).
fig. from left: 'RU4' cushioned socks for women; 'Primaloft Jacket - Hybrid' for men; from the current AW14/15 Ergonomic Sport System collection by Falke.
Photos: (C) FALKE.com.