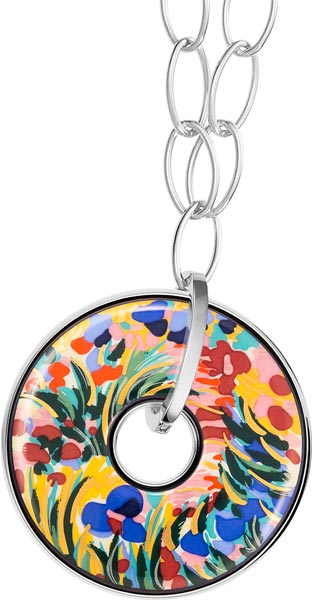 Freywille's refreshing orangery and water lily motifs on jewellery
Today on 12 June 2014, Vienna headquartered enamel jewellery and fashion label Freywille presented three new refreshing designs of the tribute collection 'Hommage à Claude Monet'. The new designs center around the garden and water motifs of the French painter.

Freywille was founded 1951 and sells - according to the label's website, today worldwide via 103 own boutiques in cities like New York, Paris, Beijing or Moscow. The team of goldsmiths, enamelling experts and artists is known for art-fashion collections of women's bags and scarves, men's ties and belts, writing instruments and jewellery with references to artists and their work like Egon Schiele's 'Dancing Muse', Hundertwasser's 'Spiral of Life'', Gustav Klimt's painting of 'Emilie Flöge' or such as on view on this page, Claude Monet's lively floral-water impressions under the title 'Orangerie' and 'Giverny'.
fig.: 'Giverny' pendant and 'Orangerie' bangle of the 'Hommage à Claude Monet' collection by Freywille, June 2014. 'Orangerie' and 'Giverny' are two of three new design lines of the collection which pays tribute to French impressionist Claude Monet, the blooming gardens of the Normandy and the painter's water lily motifs. Photos: (C) Freywille.