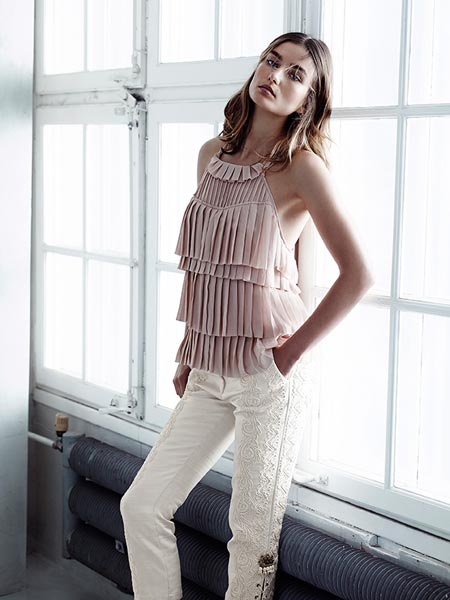 What happened during Earth Month 2014 at H&M?
Each year in April, special activities and events are organized worldwide to find visionary ideas and propagate innovative technologies for protecting the planet. But what happened in the fashion world? Fashionoffice threw a light on the latest activities of one of the world's most important global players, H&M.
H&M doesn't limit the activities to one month; the label seems to follow the reasonable motto 'Every Month is Earth Month' and publishes without interruption the whole year through news about the company's efforts in sustainability. The press room offers journalists three categories; one of them is exclusively dedicated to 'Sustainability' with reports such as the latest from mid-April about a donation of 100,000 USD to the victims of the factory building collapse in Rana Plaza (Bangladesh); even when the fashion label had never produced there.
At the press room's 'Fashion' category, one of the latest releases concerns the new 'Conscious' collections and two new materials which are used: organic leather and organic silk.
fig.: The image shows two pieces (rose colored sleeveless top with flounces and white torero-trousers with white embroideries on the sides) of the flamenco, bohemia inspired 'Conscious Exclusive' collection (limited) from the 'Conscious'-series by H&M; available in stores worldwide and online since 10 April 2014. The 'Conscious Exclusive' collection is designed in collaboration with the sustainable fashion and design think-tank Ever Manifesto. Photo provided by H&M.
And one of the news which are until today (fast checked on 26 April 2014) not published at the press room of H&M is the new video 'The Breakup', directed by the Austrian in New York living photographer and artist Bela Borsodi, for activating people to bring their old garments to H&M stores worldwide where the clothes will be collected and recycled by giving the fabrics' textile fibres new life. Since the launch in Spring 2013, H&M has collected around 5000 tonnes of textiles (equivalent to 25 million t-shirts). More on hm.com/longlivefashion.
Video: Making of 'The Breakup' for H&M (posted on 21 April 2014):