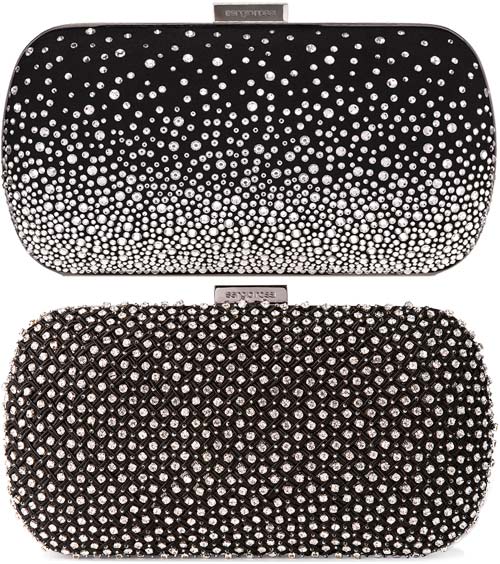 Holiday cocktail style
In early December 2014, tips around Xmas parties and cocktails were already published by several media here in Austria. Tips such as 'Be careful how much you drink!' (you will regret it the next day when not), 'Take care of the ones with cameras!' (and if you are in front of someone's lense, don't present yourself in poses you don't want to be confronted your further life with; keyword Social Media). Well, these are not the crucial themes on Fashionoffice. Here, it's more important how to dress up. Find on this page a selection of pieces for a cocktail party.

fig. right and below:
Star shining clutches and high heel ankle boot in black lacquer by Sergio Rossi (seen at the Sergio Rossi Boutique at Golden Quarter in Vienna).
Sunglasses to protect the eyes from the morning light (for after the party): Dior Enigmatic (Photo provided by safilo.com: Courtesy of Christian Dior).

Giorgio Armani sent for this year's Xmas cosmetic's look the tip to style up by being inspired from a Trans-Siberian journey through the frosty beauty of the North. The 'Orient Excess'-collection of powder, rouge, nail lacquers, eye shadows... was designed by Linda Cantello (International Make-Up Artist of Giorgio Armani). On view on the image below, the practical face and eyes box which contains additionally to the three eye shadows (with 'Fur Color Technology' for the velvet shimmer), powder in the case's upper part.

The three clothing pieces (body, legwear, skirt) are from the Spring/Summer 2015 collection by Wolford: the leggings with smooth leather-like surface, the plissé skirt with walking slit and matching body with plissé detail are according to Wolford's Facebook post of 2 December already in stores now.